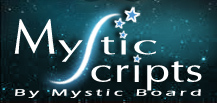 (PRWEB) January 20, 2013
MysticScripts.com is an online prediction portal that gives accurate predictions about the future of individuals in several aspects of life like love, health, relationships, career, family, wealth, personal growth, and much more; currently, the website is offering free services to all the subscribers.
MysticScripts.com is a popular online portal that offers free horoscope predictions about various aspects of life. Presently, the website is offering free Tarot reading, Numerology, Feng Shui, Compatibility, Psychic, Runes, Zodiac, Palmistry, Divination, Kabbalah, Dreams, and a wide range of services.
Follow the links to know more about Vedic Astrology, and Chinese Astrology.
All the categories on the website offer even more options to choose from. For instance, those who are interested in astrological predictions can choose from Vedic Astrology, Chinese Astrology, Greek Astrology, Celtic Astrology, Egyptian Astrology, Karmic Astrology, Japanese Astrology, and Western Astrology.
All the services that are offered by this site are based on principles that are long established, theories, calculations, and philosophies. The management of the site claims - "If researched thoroughly, the underlining calculations and theories are found in both, libraries and on the Internet itself. It should be noted that it took us tens of thousands of man hours for research and development to put everything together piece by piece... cross checking and verifying the calculations and theories to the best of our limited resources."
Those who are interested in finding the compatibility with a particular person, the Flames Love Calculator do it all. Users just need to log on to http://www.mysticscripts.com/compatibility/flames-love-calculator/ and enter names of both persons and basic details to find out the strength of relationship, and compatibility.
Talking about the utility of the website, the marketing manager told the media spokesperson – "MysticScripts.com has got something for everyone – that too absolutely free of cost! All that you have to do is just enter a few personal details like name, date of birth, and gender to read your future; the predictions are sent to your email id."
Occasionally, MysticScripts.com also conducts some exciting contests, and the winners are awarded free software packages. The website has also got a dedicated section for Numerology, and the users have plenty of options at their disposal.
When asked about the USP of their services, the marketing manager commented – "Even though there's a way out for people to browse through the Internet to find similar services, it's not easy to find a single site that offers all of these together, and that too for free!"
MysticScripts.com invites all the Internet users to take a look at the various sections of their website, and provide their valuable feedback.
About MysticScripts.com
MysticScripts.com is an online portal that provides free astrological predictions, Tarot reading, numerological predictions, and much more.
Additionally, the website also offers a good deal of software scripts, and some interesting personality tests, compatibility tests, and self-help knowledgebase too.
It also has an exclusive section for palmistry; to know more about all their services, log on to http://www.mysticscripts.com