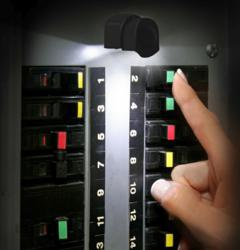 Pop-up MicroLites are the only hands-free lighting product available that shines light where you actually need it.
Lihue, Hawaii (PRWEB) January 14, 2013
MicroLite Tech, Inc. ( http://www.MicroLiteTech.com ) has announced that their popular line of miniature hands-free LED lighting devices called Pop-up MicroLites has been expanded to include magnetic mounting and new colors (black, white, and emergency red). Multi-pack retail packages are also now available.
Pop-up MicroLites have the patented ability to pop up when turned on so as to shine light downwards. Directing light downwards allows them to provide hands-free illumination of just about anything anywhere without shining light in the user's eyes. With a nickel-sized footprint they are small enough to attach to anything using the included tape or magnet, or they can be used free-standing.
The unique ability of Pop-up MicroLites to pop up and direct light downwards allows countless new lighting applications. One can use them with the included magnet to provide hands-free illumination while changing a flat tire, installing snow chains or doing automotive repairs. They can be used to illuminate trunks, glove boxes, maps, spare tires, hunting/fishing/camping gear, breaker panels, emergency kits, RV's, boats, clipboards, electrical outlets, toolboxes, door locks, drawers, remote controls - the list is really endless (see demo video). Pop-up MicroLites are especially indispensable during power outages.
All other portable lighting products are like flashlights, which simply disperse light outwards. Other products are also not hands-free, which is critical because many tasks require the use of both hands. "The ability to pop up and direct light downwards so as to provide hands-free illumination may be a simple concept but it's one that opens up infinite new lighting possibilities. Many times the simplest innovations are the most useful ones," says John Teel, President of MicroLite Tech.
Pop-up MicroLites are super bright, ultra small, water-resistant, and extremely durable. They can even withstand being driven over multiple times with absolutely no damage. Since they pop up only when turned on, they are compact and out of the way when not in use – handy for keeping in the car, boat, RV or on the refrigerator for power outages.
Pop-up MicroLites are currently available at Ace Hardware and various auto part stores, hardware stores, sporting good stores, drug stores, and grocery stores throughout North America.