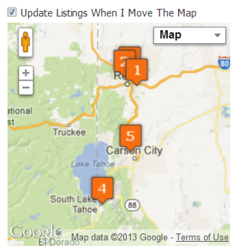 (PRWEB) January 16, 2013
Collegeseekr already offers their users fast, location based, college searching. They have just announced the release of search by map, allowing users to refine any of their searches visually.
This new search feature leverages their existing search technology and page layout. It is activated by users checking a box above the map view of their search results. Once activated the map search technology will automatically update a user's search results as the map is moved around.
This new feature provides easier access to collegeseekr's database of over 180,000 college listings by improving the control a user has over their search results. Previously all searchers were limited to the use of the address search box to control the region they wanted to search within. With the map search users have considerably more flexibility and control over the results that are returned. They can zoom into a very small area, pan around to see what is available in that region or access several regions and zoom back out. As they move around the system continues to keep posting updates to their search results. As before users also have the option of using the search filters on the left side of their search results to further refine their matches.
According to their CEO, "We expect this feature to further empower searchers because maps are a very natural and easy to use interface."
To review this interface try a search for medical degrees