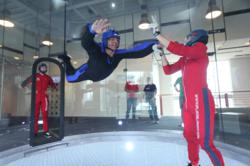 "The reaction from the Austin community about our anticipated opening has been overwhelming," said Chief Marketing Officer, Stuart Wallock. "
Austin, Texas (PRWEB) January 14, 2013
iFLY announces today that its newest indoor skydiving location in Austin, Texas, is ready to commence flight operations. iFLY Austin is the first indoor skydiving facility to open in Texas and features the world's most advanced wind tunnel for flyers of all ages and capabilities. Customers will have the opportunity to soar in wind speeds of up to 150 mph within the 14' diameter and 50' tall glass flight chamber.
"The reaction from the Austin community about our anticipated opening has been overwhelming," said Chief Marketing Officer, Stuart Wallock. "The secret is now out about the meaning of the large banner posted on our construction site several months ago, guesswhatthisis.com. The guesses from the community were very creative. No, it is not an antigravity chamber, but close. Now, we are receiving a multitude of inquiries and reservations from our newly launched web site http://www.iflyworld.com." He continued, "Our digital holiday gift cards have been a big seller as unique holiday gifts for first-time flyers and now we are booking family outings, birthday parties and corporate events."
The experience of indoor skydiving mimics the exact experience of free fall skydiving without the parachute or the risk. Customers fly accompanied by a certified instructor, flying at their own level of comfort, from a few feet off the ground with basic belly flying to more aerial gymnastic maneuvers at greater heights. To date, over five million customers worldwide have flown in the company's wind tunnels, ranging in age from 3 years to 103 years.
The new iFLY indoor skydiving facility is located at "Austinville" North retail center on Highway 183 just a few miles north of the Arboretum. Said Wallock, "Our new facility features a beautiful glass enclosed conference room with full multimedia capabilities for intimate team building and corporate events. This is the perfect place to take a team to build camaraderie or impress a client. We also have a party room to host birthday parties for all ages."
iFLY Austin is the company's 24th location in operation and will serve as the flagship model for the company's future wind tunnels in the US, Canada, Australia, France and the UK. iFLY will launch its new flight school programs, photo and video technologies, and new operating software applications at the Austin facility. They will also hold world-class indoor skydiving competitions at the tunnel, bringing another international sporting event to Austin.
About iFLY
iFLY is the world's largest and most advanced manufacturer and operator of vertical wind tunnels. Twenty-four iFLY tunnels currently operate in nine countries around the world, in commercial entertainment, professional skydiver training, and military training venues. iFLY's unique designs, innovative technologies and well-known brands are patented and trademarked in over 138 countries.
The company has built or is building tunnels in the US, Canada, UK, Spain, Russia, Malaysia, United Arab Emirates, Singapore, France, Australia and Brazil. iFLY tunnels currently operate in some of the hottest deserts (four in UAE, one in Spain, one in Arizona), in the coldest regions (Moscow, New Hampshire & Montreal), and at some of the highest elevations (2300 meters above sea level in Malaysia) in the world.
Contact:
iFLY: Stuart Wallock, 512.351.7767, pr(at)iflyworld.com