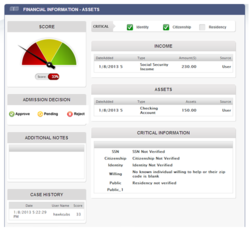 CaseVue combines advanced analytics with world class data to ensure fast, accurate eligibility, enrollment and exchange decisions.
Austin, Texas (PRWEB) January 14, 2013
AutoGov Director of Technology and Analytics, Taylor Phillips; announced today a major release of his company's flagship healthcare risk management software, CaseVue 5.0. This important version introduces improvements and tools designed to ensure that information necessary for Medicaid eligibility and enrollment is available in real time on a caseworker's desktop.
Business office managers and caseworkers are often saddled with making decisions without the benefit of data necessary to prevent mistakes or errors. In these times of rate pressure and uncertainty in the healthcare reimbursement structure, mistakes and errors often mean money – significant write-offs and even fines. Phillips says, "CaseVue combines advanced analytics with world class data to ensure fast, accurate eligibility and enrollment decisions." CaseVue gathers case data and fuses information from third party data providers to feed an algorithm designed facilitate decisions. A remarkably fast turnaround…this process takes less than one second.
Thanks to AutoGov's new financial partner, Ontario, Canada based Fusebill (fusebill.com); CaseVue can now be priced to suit our client's needs – by the score, in packages or on a monthly basis! AutoGov's specialists can create a custom pricing structure to support any healthcare business.
The software also features new self-service sign-up, administration, training and reporting designed by Phillips and an amazing development team at Rochester, NY based Netsmartz (netsmartz.net).
CaseVue is part of a comprehensive platform used by healthcare providers and government agencies to provide decision support solutions with a base in predictive analytics. CaseVue provides users with fast, accurate decision support tools that improve both the timeliness and quality of eligibility, enrollment and exchange related decisions.
AutoGov's CaseVue software has provided scores to healthcare providers and government organizations since its launch in 2005. AutoGov's algorithms are informed by data mining and statistical analysis of more than 30 million Medicaid, Food Stamp and TANF cases. The company's firm belief is that solutions for its clients must be affordable, practical, and harness technology to support day-to-day operations without major disruption or unnecessary expense.
Contact one of AutoGov's CaseVue specialists for a demonstration at 512-439-2900 or sign your company up today at http://www.casevue.com.