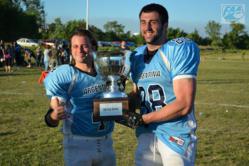 "We are looking for a cure and I think CMI Abasto has found it," states Beau Griffis owner of Informed Treatment Solutions.
Buenos Aires, Argentina (PRWEB) January 22, 2013
CMI Abaston in Argentina is getting amazing results with a new treatment modality that uses a one-on-one approach substance abuse service. While they are a rehab they like to be considered a wellness center, where anyone can enjoy the benefits of a controlled atmosphere where applied wisdom is taught and practiced till it becomes a norm. No two individuals are alike, so upon arrival they put them through an intense 7-day-diagnosis where they're seen by numerous professionals in the health and wellness field including doctors, nutritional professionals, and numerous other life-enhancing individuals to determine a correct plan of action.
CMI Abasto in Argentine helps their clients find themselves again by reviving their own true objectives using a set of one-on-one philosophical coaches that teach ancient wisdom to a drug addict in a rehab setting where they are free to pursue anything they feel that will enhance their life to get them the high they need from accomplishment and goal setting instead of drug use and manipulation. In fact, in the new substance abuse service, CMI encourages positive manipulation away from addiction; manipulating their way back to being happy without the drugs or alcohol, depression or whatever may be causing them to be unhappy.
"We are looking for a cure and I think CMI Abasto has found it," states Beau Griffis owner of Informed Treatment Solutions. Griffis' internet marketing and development firm is currently helping CMI take their program to the next level by advising them on marketing and business solutions.
Recently, a client of CMI Abasto Alton Voss found his passion in football after it was destroyed by a drug addiction. After being offered a full ride scholarship to some of the best football athletic universities in the country he quit playing for University of Southern Florida, since he figured the drugs were more important. Recently, Alton rediscovered his passion through CMI and is getting offers to more schools; giving him a second chance to reach the NFL. CMI helped him find his passion, the Argentina football league. Alton also won the silver cup as the MVP for the South American Football league known as Football American Argentina League.
With the guided help of CMI's professional individuals who strategically constructed a predetermined plan to get him back on track, Alton Voss (the one on the right in the provided photo) now holds the Silver Cup. This is one of many successes that CMI has produced. The amount of people off drugs and alcohol, freed from depression and addicted happiness, rather than to drugs, is phenomenal. The tailored made substance abuse service of CMI's Rehabilitation Center in Argentina, may give hope to a lot of struggling addicts who may need detox treatment rehab and wellness services. CMI Argentina can be reached at 1-888-817-0778, or by visiting their website at rehabilitation-solutions.com. If you prefer email info(at)rehabilitation-solutions(dot)com, will provide you with the answers you're looking for and let you know whether or not bed space is available and you can also book in advance for an opening at the facility.