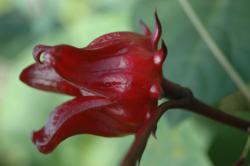 "SuperFoods are great, but don't overlook these SuperFlowers." -- Michael Ruehle
River Forest, Illinois (PRWEB) January 22, 2013
"As many people start new healthy routines in 2013, their focus is often on the top SuperFoods to eat, but at Janzee Inc. we want to remind people about the top 5 SuperFlowers that are often forgotten," says Michael Ruehle, President of Janzee Inc. "Here are some of our favorites."
Hibiscus sabdariffa (also called roselle, sorrel and flor de Jamaica) - Although this is not the same variety as is used in ornamental gardening, this related species has long been used in many parts of the world in the form of an infusion to help with heart health. Recent studies have shown that is can in fact reduce blood pressure and lower cholesterol. Hibiscus tea has been featured on the Dr. Oz show. The recommended dose is 2 to 3 glasses of infusion a day, or it may be taken in more convenient capsule form as Rosellica.
Nasturtium - Nasturtium's primary benefit is its antibiotic, antifungal properties which make it a powerful aid in combatting respiratory infections and colds. The flowers may be brewed as an infusion, and the flowers and round leaves may be added to salads to add a peppery taste and an exotic look. Many people suggest that eating nasturtium or drinking the infusion at the onset of a cold may prevent or reduce the symptoms. (This discussion refers to the large-flowered 'Indian cress' Tropaeolum majus, not the plant with the Latin name Nasturtium, which is more commonly called watercress.)
Roses & Rosehips - Although the flower of the wild rose is not recommended as food, the flower's fruit or 'rosehip' has long been recognized as a source for vitamin C. Typically brewed as an infusion or made into a jelly, rosehip has been recently recognized in studies that show it has a beneficial effect on osteoarthritis, as well as for simply sore or stiff joints.
Chamomile (German chamomile or manzanilla) - Europeans have long touted the benefits of soothing chamomile tea, especially for colds and for relieving stress and muscular cramps, including menstrual cramps. Recent studies support these claims, so go ahead and enjoy a large cup of chamomile tea in the evening, just like grandma said. (For a cold, add some honey and lemon juice.)
Lavender - It is widely accepted that the scent of lavender is calming, but this flower has many other benefits as well. Food grade dried lavender flower or a lavender-containing blend like 'herbs de Provence' may be added to food to add phyto-nutrients, and the same dried lavender sprinkled on Greek yogurt can help control bad bacteria in the gut. Lavender oil is an anti-inflammatory, so it can be used to reduce the itchiness of insect bites. A few drops of lavender extract mixed with olive oil may be massaged into the scalp and left for 15-30 minutes before shampooing, to reduce itchiness and control dandruff. And a brewed tea of lavender flowers is calming and soothing.
"Janzee also wants to remind people that not all flowers are edible, so please consult an expert before trying something new."
Janzee Inc. is the maker of Rosellica, a natural blood pressure supplement and other products based on traditional remedies that have been substantiated by scientifically-sound studies.