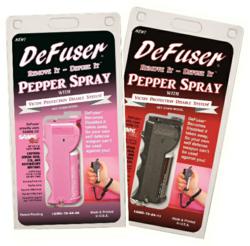 DeFuser introduces what might be the world's best pepper spray
East Bethel, MN (PRWEB) January 17, 2013
Dapper Enterprises LLC. Featuring DeFuser Pepper Spray is looking to expand their sales force by recruiting and hiring experienced sales representatives. There is also talk that they are actively looking to bring in an outside angel investor with experienced product distribution in exchange for company ownership. It appears that this might be a great opportunity for a select few to capitalize on a new break through product.
DeFuser Pepper Spray is special because it has a built in disable system that mechanically deactivates the unit if pulled away by an attacker. In addition to the disable system, the keys will stay attached to the users wrist if the attacker gains possession of the spray. This allows the victim to escape to safety while rendering the pepper spray useless to the attacker. Up until now, almost any pepper spray on the market could easily be turned against the victim. DeFuser is the answer. No other pepper spray offers such protection!
What makes DeFuser the best pepper spray?
•Automatically disarms if pulled away by an attacker
•Up to 80% more shots than the competition
•20+ bursts at a range of over 10'
•Stream delivery to reduce blow-back
•Easily disarms and rearms for safe storage
•Flip-Top & Ergonomic grip design
•Small, Lightweight & Compact
•Key Chain Attachment Included
•Wrist Strap Included
•Maximum Protection
•10% OC SABRE Red
Click here to see DeFuser's As Seen On TV :60 commercial that's soon to come
DeFuser uses the Sabre Red formula and gets up to 80% more shots then the competition. DeFuser uses one of the only formulas that is tested in a HPLC lab for heat level consistency. This product features a flip top safety & ergonomic grip design that ensures the users comfort and control. DeFuser comes complete with a multi attachment lanyard and key ring to make it easily accessible when they need it. This product is available in Hot Pink & Jet Black, and is made right here in the USA.
Want to invest in a simple, high demand, affordable product during a time of increased awareness? Then add DeFuser to your Inventory! Be a part of a revolutionary product at an affordable price, DeFuser is the pioneer of the Victim Protection Disable System and is looking for new dealers, distributors, and partners.
Contact us for Dealer, Big Box, & Distributor Pricing Today!