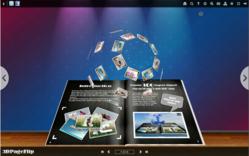 (PRWEB) January 14, 2013
Today, 3DPageFlip.com, a reliable software supplier, updates its website to introduce its new flip book maker, 3D PageFlip Professional, which allows users to convert their PDF to flip book with realistic 3D flash effects.
On 3DPageFlip.com, many photos, demos and descriptions have been added to give a comprehensive introduction to the new flip book creator. Customers can find how software is changing the way we live and do business.
"Our new flip book maker with 3D flash effect is a new product in the industry. The most charming advantage is that it can make an attractive 3D flash effect, improving the optical effect of page flip obviously, from a single dull moment to a fantastic visual feast," said, Sharry Hou, CEO of 3DPageFlip.com.
Sharry Hou continued, "Users can read in 360 degree vision by dragging the eBook to rotate and spin. The 3D spinning appearances catch readers' hearts at first sight, more quickly and more easily than any other ordinary digital books. In addition, people can get a 3D flipping book in an iPad, iPhone, Windows Mobile, or Android system."
In addition, 3DPageFlip.com offers in-depth descriptions, reviews, coupons, and discounts for flip book creators in the market, which can convert all kinds of document formats (like Word, PowerPoint, Images, and so on) to ebooks easily.
About 3DPageFlip.com
Established in 2008, 3DPageFlip.com is a professional provider of eBook creators. The company is famous for its low-cost and handy programs for companies, editors and publishers to produce qualified page flipping flash books.