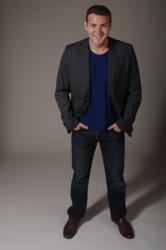 Once they have this book in their hands, they'll know exactly what to do to get their children the best SAT scores possible without investing excessive money or time in the process.
New York, New York (PRWEB) January 18, 2013
As the number of students applying to college increases, parents are progressively seeking more information on how to give their children an edge in the college admissions process. The solution, says test prep expert Anthony-James Green, is getting the parents involved in and aware of the admissions process. To aid in doing so, Green has launched TestPrepForParents.com, a new site which aims to help parents with all aspects of the application process. Green, who has been working on the site's network for months, has just added the final pieces of the puzzle which he needed in order for a full launch to occur.
"College admissions have become increasingly more competitive. Students hoping to get into top schools must score higher on the SAT, have a rigorous curriculum and an excellent GPA, and possess the qualities that a particular college is looking for in its students. Parents need to be knowledgeable about the process and equipped to help their children if they want to boost their chances at getting into college," says Green.
In response to the questions and concerns from parents seeking to navigate the college admissions process, Green has launched a test prep website just for parents - TestPrepForParents.com.
The website is designed for parents of college-bound teens preparing to take the SATs and start the college admissions process. The site features exclusive video content, downloads, articles, and interviews from some of the most renowned admissions and college experts in the country, along with a slew of resources from Green to help parents raise their children's SAT scores.
"Students aren't the only ones who need to prepare for college," says Green, "Parents need to know what it takes to help their children get high scores, high grades, and excellent applications. TestPrepForParents.com provides free resources for parents to get in the know, learn how to improve college admissions opportunities, and make the entire process seamless and stress-free."
Green also offers parents additional features through a free newsletter service that parents can sign up for through the website. Membership includes:

Free webinar and conference invites from the nation's most exclusive college consultants and test prep experts
Free books, downloads, guides, and more to help navigate college planning
Updates, announcements, and insider-only alerts
Access to an exclusive network of education, college, test prep, and recruitment gurus
The website also includes a parent-centric blog containing relevant articles on their child's study and college admissions processes, as well as feature interviews from some of the best college counselors, educational experts, and other authorities in the country.
"I want to give parents the tools to help their children get into college. More importantly, I want parents to understand the right times and methods of involvement to maximize success in the process."
In addition to launching the website, Green has published a book titled Test Prep for Parents. The book is available on Amazon.com for $2.99, or can be borrowed for free through the Amazon Kindle. Parents who purchase Green's SAT prep program, the 90 Day SAT Prescription, will also receive the book for free.
"There's a lot of advice on the market, but Test Prep for Parents is a one-stop-shop for ensuring parents SAT success. Once they have this book in their hands, they'll know exactly what to do to get their children the best SAT scores possible without investing excessive money or time in the process."
Green is the founder of The Test Prep Method and the creator of Teach Yourself The SAT, a new SAT program which allows students to improve their SAT scores by hundreds of points without tutors or SAT classes.
Interested parents and students can learn more about the Green and his services, as well as sign up for free guides, downloads, and more, here:
http://www.TeachYourselfTheSAT.com
Green has successfully tutored over 320 students one-on-one with an average score improvement of nearly 400 points, launched and sold his own SAT tutoring firm, authored four books on the subject of SAT prep, and has been called New York's best SAT tutor.
Green lives in downtown Manhattan, where he works with his students full-time when he's not developing new tutoring software programs and guides.
Parents interested in starting their free membership can sign up for Test Prep for Parents at:
http://www.TestPrepForParents.com
# # #