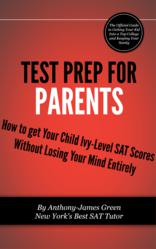 There are a thousand books on test prep, but no one seems to be addressing the needs of the parents - they all address the needs of the student. This is a very necessary first.
New York, New York (PRWEB) January 14, 2013
Hundreds of options are available to help students improve SAT scores, choose the right college, and ace the college admissions process. But as renowned SAT tutor Anthony-James Green has discovered, the test prep industry fails to address an essential member of the college application team – the parents.
While designing SAT prep software, Green saw the need for parents to receive just as much advice and insight into the college admissions process as their children. As a solution, Green wrote Test Prep for Parents, a test prep guide for parents of college-bound teens. Test Prep for Parents is now available on Amazon for only $2.99 as a Kindle download, and can be borrowed for free through the Kindle lending library here:
http://www.amazon.com/Test-Prep-Parents-Incredible-ebook/dp/B00AY5WB5I/ref=sr_1_1?ie=UTF8&qid=1358122940&sr=8-1&keywords=test+prep+for+parents
"There's a lot of bad college advice on the market. Parents needed a one-stop-shop for understanding what it takes to get their children the best SAT scores possible and improve college admissions opportunities without investing excessive money or time in the process," says Green.
Test Prep for Parents is a concise, action-oriented guide that shows parents how to improve their children's SAT scores and get the college results they're looking for. Written as a companion to the new "90 Day SAT Prescription," Test Prep for Parents takes much of the weight off of parents' shoulders, teaching them that most of the things they're tempted to do when aiming to assist their children are actually counterproductive. Parents interested in Green's new self-study program for the SAT can do so here:
http://www.TeachYourselfTheSAT.com
"Getting your child an Ivy-level SAT score doesn't have to be hard, and you don't have to nag, beg, or plead in order to get the results you're looking for," says Green, "Simply follow the advice in Test Prep for Parents, and you'll see your children's scores and college admissions opportunities improve."
According to Green, Test Prep for Parents teaches parents to be their children's teammates, not their bosses. Instead of micromanaging the process, parents can attain better results by setting their child up with the right self-guided program, then simply assisting their child in completing the program whenever possible.
"Externally motivated children fail to create the "input" pathways in their brains necessary for effective learning. Test Prep for Parents teaches parents to team up with their children to select the right schools, set the right goals, and motivate them to achieve beyond their initial expectations."
In addition to the main content, the guide comes with a lengthy Appendix section and access to the Test Prep for Parents website membership, where parents can gain free access to additional resources, advice, webinars, conferences, and more with some of the leading college and admissions experts in the country.
Test Prep for Parents is available on Amazon.com for $2.99, or can be borrowed for free through the Amazon Kindle. Parents who purchase Green's SAT prep program, the 90 Day SAT Prescription, will also receive the book for free.
Author Anthony-James Green has worked with hundreds of students one-on-one, achieving an average score improvement of nearly 400 points. He's personally trained over 100 tutors to use his methods, and his curriculum is taught to thousands of students around the world. He has also run his own SAT tutoring firm, during which time he interfaced with countless parents, educational experts, and students to enhance college application success rates.
Green is also the creator of the new 90 Day SAT Prescription, the first-ever completely self-contained SAT study program guaranteed to improve student scores by hundreds of points without the need for tutoring or classroom instruction.
Green lives in downtown Manhattan, where he works with his students full-time when he's not developing new tutoring software programs and guides.
###