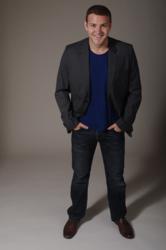 Students who can't afford this program still deserve access - no one will benefit more from high SAT scores than students who are already very likely to gain scholarships, but who don't think they'll currently attain them due to low scores.
New York, NY (PRWEB) January 18, 2013
For the majority of families with college-bound teens, SAT prep comes with a hefty price tag. For students without the means, however, this creates a massive disadvantage. To level the playing field, renowned SAT tutor Anthony-James Green is offering select not-for-profit organizations and educational institutions free access to his revolutionary SAT prep software program, capable of improving student SAT scores by hundreds of points.
Anthony-James Green, founder of TeachYourselftheSAT.com, is looking to donate his new SAT prep program, the 90 Day SAT Prescription, to not-for-profit organizations or educational institutions that work with in-need students.
"I'm specifically looking for organizations or institutions that can help in-need students access the right technology to complete the program. We want to make a difference, and we're looking for partner organizations that will support students every step of the way to maximize program results," says Green.
The program, called the 90 Day SAT Prescription, provides students with a self-study SAT course guaranteed to improve their SAT scores by hundreds of points. Students log in through any internet-connected device to complete 90 days' worth of specific, customizable assignments. According to Green, the program takes the guesswork out of studying for the SAT by breaking down each element of the test into discrete, easily-learnable units that students can absorb and apply with every-increasing accuracy.
Green, who teaches the program to his own students at $500/hour, and who improves their scores by nearly 400 points on average, is hoping that it will give in-need students a chance to improve their SAT scores by even more and thus vastly improve their chances of getting into college (and attaining scholarships to do so).
"The college admissions process highly favors the wealthy. The students who typically succeed in the college game have parents that can pay for expensive SAT prep, afford private school and tutoring, and attain indirect connections with admissions offices. Students who have never been exposed to these resources usually have terrible SAT scores - not because they're not capable of scoring well, but simply because they've never been taught how to manage the exam. I'm excited to see what sorts of results I can provide for these students by offering my program free of charge."
The 90 Day SAT Prescription was made available to the public for the first time January 3, 2013. The program typically costs $379.95, but is being offered for no charge to select not-for-profit organizations and educational institutions for a limited time. Interested parents and students can learn more about the program, as well as sign up for free guides, downloads, and more, here:
http://www.TeachYourselfTheSAT.com
Green has successfully tutored over 320 students one-on-one, launched and sold his own SAT tutoring firm, authored four books on the subject of SAT prep, and has been called New York's Best SAT tutor
Green lives in downtown Manhattan, where he works with his students full-time when he's not developing new tutoring software programs and guides.
Green is offering the SAT program for free to a limited number of schools who will be able to provide their students with computer and internet access and provide them with the $40 worth of books necessary to supplement the program.
Teachers and administrators interested in applying can do so by filling out the form here:
http://www.teachyourselfthesat.com/contact-me/
Because of Green's limited time and the fact that the product has just launched, Green is rolling out this offer to a limited number of schools and non-profits. As the program and its administrative abilities build, Green hopes to offer the program to as many students as possible.