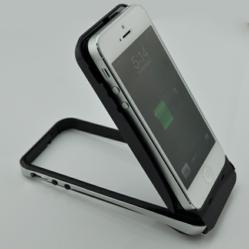 Acts as a perpendicular stand and protective case,provides 3000 mAh power
(PRWEB) January 23, 2013
It is said that the iPhone 5 is one of the best smart phones now, except for its battery life. With that said, a battery case that not only expands power capacity but also protects the device and acts as a perpendicular stand in some way is an entirely different extended case. That is why it is truly worthwhile having a look at Esorun's fancy battery case for iPhone 5.
BC01, which is the model No. named by Shenzhen Esorun Technology Co. Ltd, is definitely worth owning for those iPhone 5 users who have bad experience on the new iPhone 5 battery life. This battery case is a really revolutionary promotion from the previous battery cases for iPhone 4s or iPhone 4 in the iPhone accessory market as it is designed for the longer iPhone 5, with the result being a stylish stand and case that brings excellent power and protective characteristics. Besides, separate smart apertures have also been created for the camera and the volume button.
To save cost for users, the case is charged by means of micro dock cable (5-pin connector), along with the function of SYNC. A built-in 3000mAh Li-polymer battery means the user can almost triple the iPhone 5 battery life, or expand about additional 15 hours of talk time. Although some samples are ready for checking, the latest news about the ETA of the mass production will be in February, provided that Apple's authorized accessory factory could launch the official 8-pin connectors at 18th, Feb. 2013.
Its MFI certification and Esorun's reputation as a professional supplier focused on quality and innovation will hopefully help the company in marketing the first battery case at a great pace in the near future.
About Esorun Technology Co Ltd
Esorun is a professional technology company that manufactures and supplies iPhone and iPad accessories, Wireless external hard drives, wireless chargers, power banks, iPhone battery cases, Bluetooth speakers, fly mouses and other phone accessories.