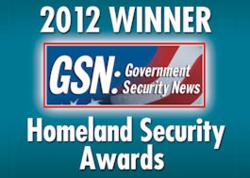 In the Best Long Range Detection Systems category, GSN identified Vidisco Ltd. as a winner
(PRWEB) January 15, 2013
At a gala dinner at the Washington Convention Center on November 29, Government Security News announced the winners -- including Vidisco Ltd. -- in 42 different categories in its 4th Annual Homeland Security Awards competition.
In the Best Long Range Detection Systems category, GSN identified Vidisco Ltd. as a winner.
All winners were honored at a festive dinner GSN hosted in a ballroom of the Washington, DC Convention Center where hundreds of industry and government officials were in attendance.
One of the highlights at the dinner was the presentation of the GSN / Raytheon Award for Distinguished Leadership and Innovation in Public Safety and Security to Richard Reed, Deputy Assistant to the President for Homeland Security. Reed delivered an insightful keynote address to an audience of industry executives and government officials at the federal, state and local levels.
The winners were selected by a panel of objective judges, according to Jacob Goodwin, Editor-in-Chief of Government Security News. "We received an outstanding group of entries and have handed winners' plaques to an exceptional group of companies and government agencies," said Goodwin.
Vidisco Ltd. is a world leader in manufacturing and selling of portable digital X-ray system that enable suspect object inspection and threat (bomb) detection from a safe and long distance. Only one approach is required down-range to the suspect object (or no human approach when using the system in combination with an ROV) and all the X-raying operation and analysis of the results are controlled from a safe distance.