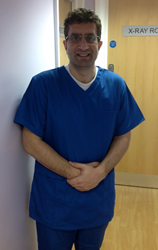 2012 was an exceptional year for us. In January we received our renewal notification for the British Dental Association Good Practice Scheme which was valid for another 12 months
(PRWEB) January 15, 2013
Leading Manchester dentist Tariq Drabu, the owner of Langley Dental Practice in Middleton, Manchester who has this week been celebrating the 15th anniversary of his ownership of Langley Dental Practice is looking towards 2013 as another year of consolidation and progress.
Speaking about the forthcoming year Tariq Drabu said "2012 was an exceptional year for us. In January we received our renewal notification for the British Dental Association Good Practice Scheme which was valid for another 12 months. This scheme is an external quality benchmark given to practices which meet a high level of accreditation and standards and is externally audited and verified. Following on from this external audit and verification we were thrilled with our Care Quality Commission (CQC) inspection which was conducted in October 2012. We came out of that with a very positive report and all our staff worked very hard to ensure that we passed. We are currently applying again to be a training practice in the dental foundation training scheme in the North West deanery. This will again require an inspection from two of the training program directors next month. So all the time our practice is continually alert in order to be prepared and ready for inspections and quality audits at any time from whatever source."
Dr Tariq Drabu continued "On a personal level I was absolutely thrilled and delighted in August 2012 to be appointed as a staff specialist in oral surgery at the brand-new state-of-the-art UCLAN dental clinic in Preston." The clinic has four general dental surgeries; an oral surgery suite (two surgeries and recovery room) and a 10-chair training suite and will be fully equipped to meet both treatment and teaching requirements. UCLAN is believed to be one of the few universities in the country, other than specialist dedicated medical centres, to have such facilities on site. Dr Tariq Drabu leads the specialist oral surgery services at the UCLAN Dental Clinic. He is registered with the General Dental Council as a specialist in Oral Surgery and has responsibility for providing not only treatment to patients but also teaching dentists. Between 2001 and 2009 he was a senior teaching fellow in oral and maxillofacial surgery at Manchester Dental Hospital where he was responsible for the teaching, lecturing and supervision of dentists on the University of Manchester's Masters program in oral and maxillofacial surgery. Speaking about this Dr Tariq Drabu said "I have been at the UCLAN dental clinic for 4 months now and am enjoying every week that I work there as it brings new challenges. Last week was my first opportunity to meet my first group of postgraduate students and I was delighted at what a keen and energetic cohort they were. The vision of teaching and training that UCLAN has is outstanding and I am sure that 2013 will see the teaching program go from strength to strength. We are already looking at a variety of short courses as well as the formal masters and postgraduate taught programs."
Dr Tariq Drabu commented on the dental CATS services which is now in its its ninth year. This service delivers specialist minor oral surgery care to patients away from a hospital setting and within a primary care practice environment at Langley Dental Practice. It has resulted in shorter waiting times for patients higher quality treatment and a more patient friendly experience. It has also proved to be cost-effective saying the taxpayer and the NHS considerable sums of money. Speaking about the CATS service Dr Tariq Drabu said "2013 sees the abolition of local primary care trusts in April. I have always enjoyed tremendous support and backing from Heywood Middleton and Rochdale primary care trust and I look forward to working with the successor body to continue to help me to deliver high-quality specialist dental services in our locality."
In late 2012 two new websites were launched relating to Langley Dental Practice. The first of these was Dr Tariq Drabu's own personal website http://www.tariqdrabu.co.uk and the second one was the relaunch of the Langley Dental Practice website http://www.langleydentalpractice.com. Speaking about this Dr Tariq Drabu said "We decided to increase our Internet presence and the launch of these two websites has directed a lot of traffic our way. In conjunction with this we have also launched the Dr Tariq Drabu affair and media department specifically to increase our visibility and profile and attract new clients. This department has already delivered some excellent results in terms of new leads and new patients coming to the practice due to our increased visibility online. Also in late 2012 we launched our new private fees and offered these to our patients. We have had a steady increase in uptake and we will be able to look in 2013 at stronger generated revenues."
Concluding Dr Tariq Drabu said "after a great 2012 we are looking to 2013 as a year of progress and consolidation for Langley Dental Practice. Exciting times and new challenges lie ahead and we look forward to meeting them."