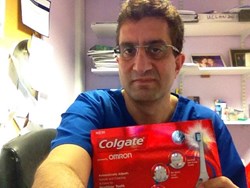 I echo the findings of the health select committee. The CQC was founded in 2008 and even now some five years later many health professionals do not have a clue as to what it is there for
(PRWEB) January 17, 2013
Leading Manchester dentist Tariq Drabu the owner of Langley Dental Practice in Middleton in Manchester has called upon the national regulator the Care Quality Commission (CQC) to sharpen its focus, redefine its role and win the confidence of the public.
This follows the highly critical report published last week by the all party House of Commons Health Select Committee. The report, released on 9th January which was widely reported in the UK press and television media can be seen here.
Among its key findings as widely reported in the media was the concern that the CQC needs to have an idea of what its core purpose is if it to inspire public confidence. Speaking about the report Tariq Drabu said "I echo the findings of the health select committee. The CQC was founded in 2008 and even now some five years later many health professionals do not have a clue as to what it is there for. The CQC began registering dental practices two years ago. At that time, the vast majority of the dental profession questioned the need for CQC registration when we as dental professionals were already registered with organisations such as the General Dental Council and we were already being inspected on a regular basis by our local primary care trusts. Many dentists were furious and appalled at the level of ignorance of some of the inspectors when they finally came round to inspect. Some inspectors asked dentists as their opening question is how they physically restrained and held down their patients. For many dentists a CQC inspection was just simply a box ticking exercises to show the policies and procedures were in place. It never got to the root cause as to whether practice was providing a good quality of service and care to its patients. These experiences and findings were echoed by the Health Select Committee which said "The CQC's primary focus should be to ensure that the public has confidence that its inspections provide an assurance of acceptable standards in care and patient safety. We do not believe that the CQC has yet succeeded in this objective."
Tariq Drabu continued by saying "As dentists we feel that we were used as experimental guinea pigs in advance of the real big agenda which is the registration and inspection of GP practices. This is echoed in the findings of the committee report which states "Looking ahead to the challenge of GP registration the committee will examine carefully in 2013 the extent to which the CQC has learnt from its experience of dental registration and is able to deliver a streamlined process that limits the burdens placed upon GPs." This seems to imply that a lot of burden and stress was placed upon dentists during the registration and inspection processes. To use dentists in this manner is very unfair."
Tariq Drabu also commented on the inspection process itself. He said "What struck me about our inspection process in October 2012 was that there was no real clinical input. What I mean by that is there was not a doctor or dentist or another healthcare professional who was actually coming to do the inspection. Some of the inspectors came from a social care background; the inspector who came to inspect our practice was from a pharmaceutical industry background. The health select committee found that although clinical expertise is available to the CQC, almost nine out of ten inspections carried out did not have a clinical expert input. That is a shocking statistic."
Speaking about his own experience of inspection and audits Tariq Drabu said "In 2011 Langley Dental Practice achieved the BDA Good Practice Scheme award. This is an externally validated quality benchmark which assesses and measures quality in dental practices. We were also subject to a CQC inspection in October 2012 which came forward with a very positive outcome. At the moment we are reapplying to be a training practice within the North West Deanery and will therefore be inspected by the deanery within the coming few weeks to assess our suitability. We welcome this level of scrutiny as it keeps our practice sharp and focused in order to deliver high-quality patient care."
Concluding Tariq Drabu said "my action plan for the CQC would be:
1. Clearly define its role with respect to public safety.
2. Set itself some achievable objectives over the next 18 months with respect to its key stakeholders - namely the public and the organisations that it regulates.
3. Review it's performance against those objectives with an independent assessor.
The CQC must define its role more clearly to have any credibility with the public. It must take on board the findings of the health select committee. It has already lost one chair and its current chief executive has stepped down early. This indicates a loss of confidence and lack of leadership at the top of the organisation. If this were a company in the private sector it would have collapsed by now. The CQC needs to get its act together sharpen its focus, redefine its role and come up with a system of inspection and regulation that really does focus upon quality and gains public trust."
http://www.parliament.uk/business/committees/committees-a-z/commons-select/health-committee/news/13-01-03-cqcpublication/.
http://www.guardian.co.uk/society/2013/jan/09/health-watchdog-public-confidence