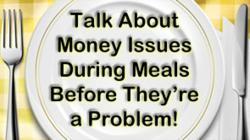 Money has a way of evoking emotion. When discussing money issues it is best to leave emotion out of the discussion and rely on solid communication skills.
Roanoke, Virginia (PRWEB) January 14, 2013
Money issues are a common reason for divorce. The recent fiscal cliff deal means less money for most people. Marital issues can arise if not dealt with properly. While we live in uncertain times and a very weak economy, it is time to build unity within the family, pull together, and make this tough situation a benefit for family relationships. Mark Jala is the founder of "Cook, Talk, Love" and offers 10 tips on how to not only survive money issues in a marriage but flourish in these difficult financial times.
"Money issues naturally cause stress. When not dealt with properly it can lead to serious marital issues. When paychecks are less than expected, panic can strike. The first thing to do is to assess the situation and calmly talk about it looking for solutions. I suggest the best time to talk about money matters is during a family meal. Use the family meal as a time to discuss all family issues," says Mr. Jala. "When all family members are on the same page and understand this is the time to calmly discuss not just the routine but also the important matters of the day, family bonds are built and relationships are enhanced. Money issues should definitely be included."
Mr. Jala suggests brushing up on communication skills when discussing money. "Money has a way of evoking emotion. When discussing money issues it is best to leave emotion out of the discussion and rely on solid communication skills. There are articles on the Cook, Talk, Love website that offers 8 tips on improving communication skills," says Mr. Jala.
Mr. Jala offers these 10 tips and ideas on how to talk about money issues during a family meal:
1. Give advance notice that money matters are on the agenda to discuss at dinner tonight. Don't surprise a spouse or partner by putting them on the spot. This takes pressure off the moment and allows each person to prepare.
2. Always remain calm and never let emotion enter into the discussion. Don't get angry.
3. Always start by showing respect to your partner or spouse. Be respectful of them always and in everything.
4. It is quite possible one person is a money spender while the other is money saver. Each has merits and each person can learn and benefit from the other. The key is to not have either one dominate the other. This situation requires the skills of understanding and compromise.
5. Be honest. Be truthful. Don't hide any spending or saving from the spouse. Lay all the cards on the table.
6. Never blame. If you are married, you are equal partners and in it together. Like partners on a doubles tennis team, you win or lose as a team. If one is not doing well, it is up to the other partner to step in and pick it up until both are equal again. This is a very important mindset.
7. Make and stick to a budget. It is important for the parents to know exactly what is coming in and going out. Children should have a general idea.
8. This is a great time to teach children about finances and money planning. The use of a book like "The Richest Man in Babylon" by George Clason is instrumental in teaching savings and investing. Read and discuss segments of the book.
9. Set goals, financial and otherwise. See my recent article about goal setting for more information.
10. Track progress and stay on top of the finances. It's easy to slip back into old spending habits when not reminded of the goals and reasons why spending and saving changes were made.
The family meal is a great opportunity to solve money issues. When done properly, marital issues can be avoided, and the entire family can understand their individual roles in making the plans a success.
About Mark Jala and Cook, Talk, Love: Mr. Jala is the founder of http://www.CookTalkLove.com. He offers a 2-part video series on using the family meal to build family relationships here: http://on.fb.me/XuD89f. Other video, audio, and print resources for building loving and long lasting relationships are available on the Cook, Talk, Love website. Mr. Jala is available for interviews and speaking engagements. Mr. Jala is writing his first book called "Cook, Talk, Love – How to Nourish Family Relationships During Meal Time."