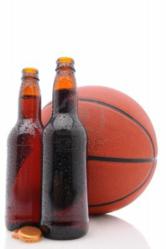 That's a whopping 75 cents per ounce to watch Kobe and the struggling Lakers put on their forty-eight minute show
Houston, TX (PRWEB) January 17, 2013
SaveOnBrew.Com has released their 2012 - 2013 beer price findings for all 30 NBA arenas and summarized them in an infographic.
Overall, NBA fans are paying about 3% more this season to enjoy a cold one at the game. Even though the increase is modest, with beer prices start at $5.00, the nickles and dimes add up quickly.
The league seems to have come back nicely after the strike-shortened 2011-2012 season and fans are being rewarded with better value for their beer-dollar this year -- with a few notable exceptions.
Both the San Antonio Spurs and the OKC Thunder both still offer five-dollar beer at their home arena. If you're passing through Denver, or lucky enough to live there, the best deal in the league can be had at Pepsi center, where a 24 ounce cup of the golden nectar can be enjoyed for a meager $6.25.
Not surprisingly, those on the west coast are paying the most this season. Both the Lakers and Clippers charge $7.50, but that only gets ten short ounces at a Laker's game, and twelve while watching the league-leading Clippers. That's a whopping 75 cents per ounce to watch Kobe and the struggling Lakers put on their forty-eight minute show. Seventy-five cents per ounce translates to 54 dollars for a six-pack, or about seven hours of work for someone making the minimum wage.
For a complete infographic on the full breakdown of all 30 NBA teams visit SaveOnBrew.Com.
# # #
About SaveOnBrew.Com: Founded in 2010 to help thirsty beer drinkers across the United States find the lowest advertised prices for one of the world's most popular beverages.