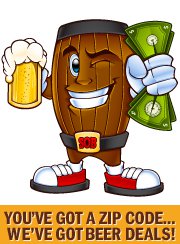 A June NPR report found that beer now accounts for nearly 50 percent of liquor store purchases.
Houston, TX (PRWEB) January 15, 2013
A liquor store may not be the first place a person goes to pick up beer, but retailers are starting to branch out to sell more than just spirits. A June NPR report found that beer now accounts for nearly 50 percent of liquor store purchases. Back in the 1980s, 34.6 percent of store sales were liquor – compared to 12.6 percent in 2012. In fact, wine and craft beer sales are up significantly. Last year, wine accounted for 16.2 percent of liquor store sales. Meanwhile, craft beer sales increased by another 15 percent.
SaveOnBrew.com is the web's only beer price search engine, with deals from more than 50,000 retailers nation-wide. The group is constantly adding beer brands and stores to their massive database. In January alone, they've added hundreds of new liquor stores.
"Word is starting to get out that we're a great free place for retailers to promote their beer sales and prices," says SaveOnBrew's Mark Davidson. "The retailers we talk to say that they only recently started carrying beer and they need to find a way to let people know that they offer great selection at competitive prices."
Davidson adds that he was initially surprised by the number of liquor stores that sold beer. Yet, it's part of a growing trend, he says, where liquor stores aim to be a one-stop-shop for a consumer's party needs. Hollywood Liquor Store in Northeast Portland is one of four in a pilot program to begin selling beer and wine alongside spirits. At Brooklyn Center in Minnesota, beer makes up almost half of all sales and more city liquor stores are eyeing ways to add $15 bottles of craft brew to their repertoire. Pennsylvania and other states are looking into opening up beer and wine sales to supermarket chains, which will increase competition for small, family-run liquor stores.
"Advertising with SaveOnBrew was a no-brainer for us," says Mark Lenzi of Franklin Liquors in Massachusetts. "We were having trouble getting the message out that we had a wide selection of beer -- not just liquor. Since we began sending our sales flyers to SaveOnBrew, we've more than tripled our sale of beer, specifically. The foot traffic has increased substantially. It's a competitive market. Every little bit of online marketing help really counts. And you can't beat free marketing."
For more information, liquor store owners can visit http://www.SaveOnBrew.com or contact site-owner Mark Davidson directly.
# # #
About SaveOnBrew.Com: Founded in 2010 to help thirsty beer drinkers across the United States find the lowest advertised prices for one of the world's most popular beverages.