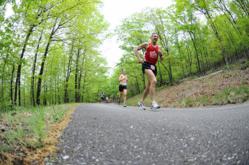 Roanoke, Va. (PRWEB) January 15, 2013
Hundreds of runners will soon descend upon Virginia's Blue Ridge for the 2013 Foot Levelers Blue Ridge Marathon, at 7:30 a.m., April 20 in downtown Roanoke.
Touted as America's Toughest Road Marathon, bragging rights aren't the only prize up for grabs for competitors in this year's race. Two lucky runners will score a spot on the five-person relay team of legendary athletes Bart Yasso, Frank Shorter and Bill Rodgers.
"This is a great way to participate in the marathon," said Pete Eshelman, chair of the marathon. "The winners will be able to say they conquered the toughest course in America, while running with three of the biggest names in the history of running."
To enter the contest, runners must upload their most inspiring running photo online or submit a photo which tells others about the marathon using a creative display or placement of the Foot Levelers Blue Ridge Marathon logo. Once complete, participants must then get family and friends to vote online for their photo.
Photos will be accepted through Jan. 31, and voting will run through Feb. 14. In addition, the top 20 photos in each category will be voted on by Yasso, Shorter, Rodgers and select members of the race committee. Winners will be announced Feb. 20.
Dubbed the "Mayor of Running," Yasso joined Runner's World in 1987 to develop the groundbreaking Runner's World Race Sponsorship Program. He also was inducted into the Running USA Hall of Champions in 2007, and is the author of Life on the Run.
Shorter, a former American long-distance runner, won the gold medal in the marathon at the 1972 Summer Olympics. He was inducted into the Olympic Hall of Fame in 1984 and the USA National Track and Field Hall of Fame in 1989, and was featured in the 1998 film Without Limits, which follows the life of his Olympic teammate Steve Prefontaine.
Rodgers, an American runner and former American record holder in the marathon, is best known for his late 1970s victories in the Boston Marathon and the New York City Marathon. Since 1977, he and his brother Charlie have operated the Bill Rodgers Running Center in Boston, Mass.
The race, which will start and end at the Taubman Museum of Art in downtown Roanoke, includes a full and half marathon, a five-person team relay, a walking half marathon and the YMCA Kids Marathon.
Full marathon competitors will have more than 7,234-feet of elevation change to contend with on race day as the course includes three mountains to ascend and descend. Of them, the most arduous stretch occurs at Roanoke Mountain along the Blue Ridge Parkway. Half marathoners will face an elevation change of 2,500 feet.
All participants will receive finisher medals and the top male and female finishers of the full marathon will receive a Tag Heuer watch courtesy of Fink's Jewelers.
Now in its fourth year, the marathon was created by a group of runners and outdoor enthusiasts who share a passion for the sport and for the natural beauty of the Roanoke Valley. Each year, the event draws participants from throughout the region who look to test their strength and endurance along one of the most challenging and picturesque marathons on the East Coast. Proceeds from the event benefit the non-profit Friends of the Blue Ridge Parkway, which works to protect, preserve and enhance the national treasure.
For running enthusiasts who don't make the relay team cut, the Foot Levelers Pasta Dinner also will feature the trio of Yasso, Shorter and Rodgers, at 6:30 p.m., April 19 at Roanoke's historic City Market Building. The cost is $22 per person and $15 for children age 12 and under.
To register for the Foot Levelers Blue Ridge Marathon, visit Active.com. Online registration will close at midnight, April 17. Fees are: Full Marathon, $90 before March 10 and $100 through April 17; Half Marathon, $75 before March 10 and $85 through April 17; Five-Person Relay Teams, $165 before March 10 and $180 through April 17; Walking Teams, $75 before March 10 and $85 through April 17; and YMCA Kid Marathon, $20 through Feb. 28 and $25 after.
For more information, visit blueridgemarathon.com. For more information about Virginia's Blue Ridge, visit our website/mobile site at http://www.VisitVABlueRidge.com, call (800) 635-5535 or stop by the Roanoke Valley Visitor Information Center, open 9 a.m. – 5 p.m. daily in downtown Roanoke.