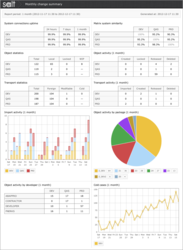 There are many ways to report change in an SAP system, but only Salt provides at-a-glance, objective visualization at a level to support quick action
Melbourne, AU (PRWEB) January 14, 2013
Revelation Software Concepts Pty Ltd(RSC), a pioneer and market leader in simplifying change control for SAP® software users, today introduced v2.4 of its popular Salt change intelligence software for SAP solutions. The new enhancements sharpen Salt's instant change visibility across all SAP software-based systems and activity streams presenting the information directly on the Salt dashboard in near-real-time, and introduce time-saving, at-a-glance emailed report subscription options.
Managers and senior IT team members can now instantly identify out-of-sync situations and correct them before they become disruptive. They can review all work-in-progress, visualize current change streams, and anticipate potential conflicts and resolve them in advance. This enhanced visibility is particularly valuable in systems where parallel teams are working on related projects or when unusual situations demand quick action by managers to prevent disruptions.
With Salt 2.4, users can subscribe to weekly and monthly snapshots of their systems' current state sent straight to their inbox, allowing them to review recent activity and gain a system-level overview of all changes moving across the landscape. With Salt's close change monitoring and up-to-the-minute, accurate system intelligence, managers can take faster, more accurately focused action to correct current or potential problems before they affect normal business processes.  
"There are many ways to report change in an SAP system but only Salt provides at-a-glance, objective visualization at a level to support quick action," noted Dave Gordon, CIO at RSC. "As a change intelligence-specific platform, Salt's objective view from outside the system itself allows Salt to extract, archive, analyze and report on custom code changes across entire SAP landscapes. That makes it a powerful way to gain insights into a system's current state, past evolution, and all work in progress."
The emailed system summaries provide good starting points for team members needing to drill down to additional detail. For example, users can view object statistics including total, local, locked, and work-in-progress, or see ongoing activity − what is created, locked, released or deleted. Transport statistics can be sent, such as total, foreign, modifiable, and cold cases, plus activity measures including imported, created, released, and deleted. Other available detail includes transport migration, object activity by package, and Cold Case charts, as well as break-downs of object activity by developer or system connections uptime. A system similarity matrix can be included to visually compare specified components of the landscape.
A subscriber can also specify additional To, Cc, and Bcc recipients so others will see the same reports, or send ad-hoc reports to others right from inside Salt at any time.
Salt 2.4's email report subscriptions, visible activity streams and dashboard change process visualization are system intelligence capabilities unique to Salt. A Salt Online Test Drive System can be accessed from the Salt website, where users can register for a no-cost 90-day Salt trial for use on up to 20 systems. More information on RSC, its products and services can be found at http://www.xrsc.com.
About Revelation Software Concepts
Revelation Software Concepts (RSC) specializes in simplifying change control for SAP solutions, developing market-leading technology to reduce the risks and lower the costs of delivering changes into information systems. Since RSC was founded in 1997, some of the world's largest companies have come to rely upon its mature change control solutions. Its deep expertise and responsive support have made RSC the leading change-control specialist for SAP solution-based infrastructures around the globe. RSC is 100% SAP solution-focused. Its products simplify change control for both ABAP and non-ABAP programming language-based technologies, reflecting RSC's commitment to technologically innovative change control solutions that serve current market needs. For more information, visit http://www.xrsc.com.
# # #
Note to Editors— Salt is a registered trademark of Revelation Software Concepts Pty Ltd. SAP, ABAP and all SAP logos are the trademarks or registered trademarks of SAP AG in Germany and in several other countries. All other trademarks or registered trademarks are the property of their respective owners.