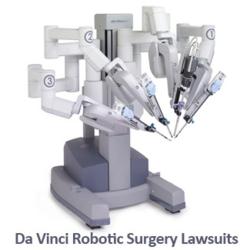 If you or a loved one has been injured by a da Vinci surgical robot contact Wright & Schulte LLC, a leading medical device injury law firm today at 1-888-365-2602 or visit www.yourlegalhelp.co
Columbus OH (PRWEB) January 14, 2013
Wright & Schulte LLC, a leading defective medical device injury law firm, and leading Ohio personal injury law firm, is investigating potential Da Vinci Surgical Robot lawsuits on behalf of individuals allegedly injured as a result of robotic surgery procedures involving the Da Vinci Surgical System. The Firm's attorneys are now offering free Da Vinci Robotic Surgery Lawsuit consultations to individuals who suffered serious complications allegedly due to Da Vinci Robot procedures, including:

Tears Due to Robotic Surgery
Robotic Surgery Burns
Robotic Surgery Burns of the intestines
Punctured blood vessels due to Robotic Surgery
Punctured ureters due to Robotic Surgery
Cut Ureters from to Robotic Surgery
Severe bowel injuries from to Robotic Surgery
Vaginal cuff dehiscence from to Robotic Surgery
Excessive bleeding from to Robotic Surgery
Surgical burns from to Robotic Surgery
Sepsis from to Robotic Surgery
Peritonitis from to Robotic Surgery
Death from injuries due to Robotic Surgery
Additional surgeries have been needed to correct these robotic surgery injuries.
For more information on filing a Da Vinci Robotic Surgery lawsuit, or to arrange for a free legal consultation, please visit http://www.yourlegalhelp.com
The Da Vinci Surgical System, marketed by Intuitive Surgical, is a large, remote-controlled robot used to perform minimally-invasive surgeries, including hysterectomies, prostate removals, gall bladder removals, gastric bypass, and thyroid cancer surgery. According to a recent Los Angeles Times article, the Da Vinci Robot is now used in more than 2,000 hospitals, but little data exists to show the robot offers patients any advantages over traditional surgery.
[latimes.com/2011/oct/17/health/la-he-robotic-surgery-20111017]
One study, published in 2009 in the Journal of the American Medical Association, found that prostate cancer patients who underwent minimally-invasive prostate removal, the majority of which now involve a robotic procedure, were more than twice as likely to experience incontinence or impotence 18 months after their operations compared to patients who had traditional surgery with an open incision. Success at controlling the cancer was about the same for both operations.
[jama.jamanetwork.com/article.aspx?articleid=184709#Abstract]
A study published in January 2012 in the Journal of Clinical Oncology found that women treated with the Da Vinci Robot for endometrial cancer had about the same complication rates as those who underwent traditional laparoscopy. However, Da Vinci procedures cost, on average, $1,300 more.
[jco.ascopubs.org/content/30/8/783.abstract?sid=07a4c9c2-d74d-4b1d-9b85-5b40e953e060]
In August, the U.S. Judicial Panel on Multidistrict Litigation (JPML) refused a motion to consolidate all Da Vinci Robotic Surgery lawsuits pending in federal courts in a single jurisdiction for pretrial proceedings. Among other things, the Panel pointed to the minimal amount of actions then pending, and concluded that centralization was not warranted. At that time, only four Da Vinci Robotic Surgery lawsuits had been filed against Intuitive Surgical. However, StreetInsider.com recently reported that a total of nine lawsuits have now been filed on behalf of alleged victims of Da Vinci Robotic Surgery complications.
[masstortdefense.com/uploads/file/robotnomdl.pdf]
[streetinsider.com/Analyst+Comments/Bloom+Could+Come+Off+Intuitive+Surgicals+%28ISRG%29+Rose+as+Lawsuits+Fly+-+Citron/7960336.html]
About Wright & Schulte LLC
Wright & Schulte LLC, a leading personal injury firm, is dedicated to the belief that America's legal system should work for the people. Every day, the attorneys of Wright Schulte LLC stand up for the rights of people who have been injured or wronged, and fight tirelessly to ensure that even the world's most powerful corporations take responsibility for their actions. If you're looking for a law firm that will guarantee the aggressive and personal representation you deserve, please do not hesitate to contact Wright & Schulte LLC today. Free case evaluations are available through yourlegalhelp.com, or call 1-800-399-0795.
Contact:
Wright Schulte LLC
812 East National Road
Vandalia, Ohio 45377
1-800-399-0795