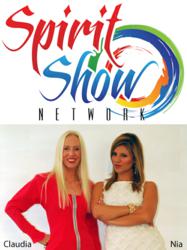 As we awaken to new levels of aliveness, we discover our own unique magic, enabling us to be the art of who we are.
Hollywood, CA (PRWEB) January 18, 2013
Fresh off the Shinca Entertainment/Claudia Hallowell Entertainment co-production of the landmark Spirit Fashion L.A. Web/TV series (part of their avante-garde Spirit Show Network movement), which rocked the outer dynamism and inner beauty of Los Angeles Fashion Week 2012; on Monday night, January 14, 2013 at 7:00 pm, this neo-entertainment partnership again treads noveau terra nova with a second season of their fantastical Spirit Art Web/TV Series on http://www.spiritshow.tv.
In the deepest realms of mind, body and spirit, which goes beyond the enigma of those who purport they're not religious but are spiritual, art is something that often times finds you, and therein lies the true creative artistic spirit of divine lost and organic found. The Spirit Art web series is an amalgamation of 3-5 minute segments featuring partially scripted interview formats with an offshoot documentary platform that promotes the daring imaginations of local artists from the Los Angeles art scene. The tangible visions and self expression of these local art giants will open the hearts and souls of art fledglings and connoisseurs alike to forge new shifts of inner awareness and planetary consciousness toward positive messages of world hope and spiritual sentience.
Watch as co-hosts Nia Lyte and Claudia Hallowell delve deep into the psyches of LA's most creative artists to explore and reveal their expressionistic messages through their paintings, sculptures, drawings and digital art.
Major artists highlighted in the Spirit Art series include the octet of Leonardo Da Vinci, Tony Denison (Award Winning actor from The Closer), Mark Strickland, Carlos Molina, LeRoy Hallowell, Suichi Sonokawa, Valentina Pelayo and Carol Heiman Greene.
Also featured throughout the series will be the Grand Unveiling of Da Vinci's "Horse & Rider" sculpture, exclusive behind the scenes footage from the famous "Master of the Pageants" show that showcases live actors replicating world famous paintings, student artists from UCLA, works from Venice Beach and Los Angeles Galleries such as Lab Art, ACE Gallery, Laguna Beach Art-A-Fair, MOLAA, St. Elmo's Village and a special on origami from the Japan American Museum.
Host Nia Lyte, co-founder of Shinca Entertainment and co-creator of Spirit Art, is an award winning and highly touted and charming host. Her sophisticated emcee etiquette entertained the Best of Art Basel Miami Beach TV Show for Ovation TV & Comcast, was a headliner on Standing Ovations on CableFax, received the Award of Beauty in Television by the Romanian-Hollywood Awards and became one of the top internet live show hosts via her The Nia Lyte Show.
Although fresh in Hollywood with her engaging Spirit Fashion TV debut on LA's KCTV, accomplished artist Hallowell, whose contemporary and abstract paintings enrich the halls of corporate and private collections throughout the United States and Europe, is also the show's writer. Her keen passion for writing about the evolution and wonderment of the human spirit blends well with her employing art as a way to heal and "let go" as she philosophically posits, "As we awaken to new levels of aliveness, we discover our own unique magic, enabling us to be the art of who we are."
Shinca Entertainment's Shin Koyamada, co-star in Tom Cruise's The Last Samurai and the lead in Disney TV's Wendy Wu: Homecoming Warrior, serves as the show's executive producer.
About Nia Lyte and Shinca Entertainment:
As Co-Founder and Spokesperson for the Shin Koyamada Foundation, Nia Lyte raised over $120,000 in 6 months to help the Japanese Tsunami victims. In 2011, she received the award of Ambassador for Peace for her humanitarian work, from the Women's Federation for World Peace in New York. In 2011, she participated as a Speaker in a conference focused towards empowering women, alongside U.N. ambassadors, World Food Program directors, and political and religious leaders from around the world. She is also the creator of the comic book "The Dreamhoppers" (http://www.laizen.com), released in August 2011, which is available in comic book stores in New York, Los Angeles, San Diego, San Francisco, and Las Vegas.
Co-founded by Lyte and Shin Koyamada, and in partnership with Paul Heller (producer of Enter the Dragon), Shinca Entertainment has developed documentaries, movies, and TV Shows for various clients, including Disney Channel, Warner Brothers, Tokyo Broadcasting System (TBS) and Comcast.
Shin Koyamada, Executive Producer at Shinca Entertainment is a movie star, martial arts master, and founder of the Shin Koyamada Foundation, a non-profit charitable organization dedicated to helping Japan's Tsunami Victims and empowering children to achieve their dreams. Best known for his work in The Last Samurai alongside Tom Cruise, his recent work also includes All Star Games TV Show on Disney Channel, Jake 2.0 TV series, Wendy Wu Homecoming Warrior (Disney Channel TV movie), as well as many Japanese movies.
Shinca Entertainment will also be distributing its shows in Japan.
About Claudia Hallowell:
Claudia began her television career as a producer and co-host of a PBS philanthropic reality show, and as a PBS telethon host. Armed with an appreciation for the human spirit, she trained with top professionals in the fields of wellness, relationship dynamics, and self care. This led to the on-going development of stress management programs for firemen, policemen, SWAT teams and returning veterans. She also designed instructional modules for businesses on customer care, and for individuals and couples to help them understand themselves and improve their interpersonal relationships.
As a writer, Hallowell's large body of work is representative of her broad interests, including: mysteries, paranormal, fantasy-science fiction, romantic dramas, as well as children's and inspirational books. Prolific in nature, Claudia keeps a keen eye to the evolution and wonderment of the human spirit - the esoteric cultivation that caresses our inner existence.
Her art works exude with energy, linking her to the soul of humanity. As co-owner of Spirit Show Network, Claudia's latest undertaking stations her as co-creator/executive producer/writer for the web/television Spirit Series - an expedition into fashion, art, music, love, and an appreciation for our planet Earth.