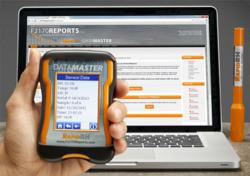 Rogue River, OR (PRWEB) January 20, 2013
Wagner Meters is excited to announce that, once again, their latest innovation in concrete Relative Humidity (RH) testing has been nominated for the Most Innovative Product award (MIP) at the 2013 World Concrete Show in Las Vegas, Nevada in February 2013.
The new Rapid RH® DataMaster™, slated for release on February 5th, 2013, combines several proven technologies into an exciting new wireless hand-held product designed to help protect data integrity and ease verified reporting for concrete and flooring professionals. Seamlessly integrating with the proven accuracy and efficiency of the Rapid RH® line of concrete relative humidity testing, the new DataMaster is a compact, handheld device that combines touch-screen capabilities with wireless technology to avoid the errors of manual record keeping and reporting.
Used in combination with the Bluetooth®-enabled Reader, the DataMaster™ allows flooring specialists to quickly and accurately collect RH testing data from multiple job sites, and then just as efficiently provide verified, ASTM-compatible reports through http://www.f2170reports.com – a brand-new site also being introduced by Wagner Meters as part of the DataMaster™ package.
From their original MIP-winning Rapid RH to the new DataMaster™, Wagner Meters carries on its tradition of looking for exciting and proven new ways to support concrete and flooring professionals. To learn more about the new cutting-edge DataMaster™ and the complete line of Rapid RH® and pH tools, visit http://www.wagnermeters.com/datamastermip.php .