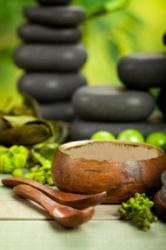 San Francisco, CA. (PRWEB) January 15, 2013
Leading natural health product manufacturer, Zion Health, announces its vegan Moisture Intense Lotions are now available at Hy-Vee health food store in Blue Springs, Missouri. The line of mineral moisturizing lotions has a base of high grade bentonite clay (Kanwa) along with yarrow root and almond oil to hydrate and sooth dry skin.
Many brands of personal care products are tested on animals and contain animal fat in the form of glycerin, or mono- and diglycerides. Zion Health offers a cruelty-free, vegan option for face and body moisturizing with their unique lotions using Kanwa clay, yarrow root and botanical oils.
Adama Minerals vegan Moisture Intense Lotions are not tested on animals and free of animal ingredients. Healing earth Kanwa clay in the lotions works to repair dry skin while gently drawing out pollutants. Kanwa clay is nutrient-rich, with over 60 trace minerals. The high mineral content naturally provides calcium, magnesium, copper and other skin essentials known to improve elasticity and balance pH.
Along with Kanwa clay, Zion Health Adama Minerals Moisture Intense Lotions contain natural yarrow root and almond oils to hydrate dry skin, sooth irritation and boost its resiliency. Yarrow root is known for its anti-inflammatory properties and is an excellent source of silica. The silica in Adama Minerals Moisture Intense Lotions helps enhance collagen production to keep skin firm. It also known to help stabilize protein sugars in the skin responsible for hydration and texture, thus helping to avoid wrinkles from sun-damaged skin. Almond oil adds to this nourishment with high levels of vitamin D that protect against harmful ultraviolet sun rays.
Hydrating, mineral-rich Adama Minerals Moisture Intense Lotions from Zion Health are available for consumers at Hy-Vee health food store in Blue Springs, Missouri. Zion Health's line of natural, mineral-rich moisturizers include Moisture Intense Lotions in blue orchid, lavender, vanilla orange and pink grapefruit essential oil scents.
Zion Health Products are available online at http://www.kanwaminerals.com. Zion Health provides its consumers with pure skin and body care products that are 100% vegan, free of parabens, aluminum formulated using certified organic ingredients whenever possible. For more information on Zion Health products, go to: http://www.zionhealth.com.
# # #