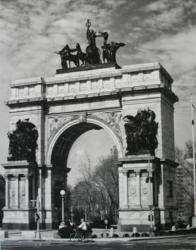 Drawing with charcoal, pastel and applying small accents of gold leaf gives my art photography new direction.
New York City, NY (PRWEB) January 15, 2013
"Art is all about self-expression," says Photographer Ellen Fisch. As an architectural / art photographer, Fisch has photographed hundreds of buildings, architectural details and construction sites through the years. Currently, she is experimenting with ways to add depth, contrasts and to increase the visual appeal of her black and white and sepia photographs in artistic ways. "I love taking photographs of architecture. I am always captivated by architecture as a photographer." Artistically, however, Fisch was looking for a way to combine her painting background with photography in her fine are photographic images. "Drawing with charcoal, pastel and applying small accents of gold leaf gives my art photography new direction."
Photographer Ellen Fisch has an extensive fine art background as well as considerable credentials in the fields of photography and architectural drawing and drafting. Recently, Fisch combined her expertise by drawing into her architectural art photographs. The photographs are first printed on fine art paper. Then Fisch highlights areas of the architecture and its environs with pencil, charcoal and pastel pencils. Finally, the images are finished with touches of 12-24K gold leaf in several colors: white, gold and moon-gold. "The idea of incorporating my fine art drawing skills into my photography has been in my mind for several years," says Fisch. "I needed to formulate the concept of combining my love of architectural drawing with photography to accomplish my goal."
First Ellen Fisch researched the available photography printing papers. Using an Epson 4000Pro printer for several years, Fisch had to make sure that her printer could handle the paper she selected. She decided on William Turner Hahnemühle Fine Art paper. The paper has a tooth so Fisch can use fine art media on it. The gold adhesive also adheres well to the paper. Then Fisch researched art that incorporates mixed media. "Looking at the work of other artist photographers, such as Gustav Klimt and Man Ray is very inspirational. I consider the techniques used by these masters to encourage my own creativity."
Once Fisch could conceive of a new direction for photography, she photographed Park Slope / Prospect Park, Brooklyn for her new project. "It seemed fitting to launch my new work deep in my past," says Fisch. "I spent a great deal of time in the Park Slope/ Prospect Park area as a child when visiting my grandparents." Fisch, a Brooklyn native notes that her paternal grandfather was a master jeweler which inherently gave her a fascination for gold.
Ellen Fisch will exhibit her new architectural art photography with charcoal, pencil, pastel and gold accents at Jadite Galleries during the month of February, 2013.
About the Photographer:
Ellen Fisch is a New York based architectural/ art photographer specializing in black and white and sepia photography that is artistically expressive, historically relevant and timeless. Her new photography accented with charcoal, pencil, pastel and gold leaf will be exhibited at Jadite Galleries, 413 West 50th Street NYC, NY during February, 2013.
To view Ellen Fisch's black and white and sepia architectural/ art photographs visit http://www.ellenfisch.com
To visit Jadite Galleries: http://www.jadite.com
###