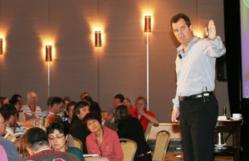 Raising retirement money and securing your financial future don't have to be stressful and full of struggles.
(PRWEB) January 14, 2013
A recent research from Castle Trust shows 3.25 million households are planning to downsize their homes to be able to fund all or part of their retirement. These individuals are looking to buy homes that are 36 per cent cheaper than their current houses. In doing so, they could raise approximately £186 billion for their retirement.
Unknown to most of these individuals, there are other more innovative ways of raising retirement funds other than downsizing their homes. And that is what Australian property innovator, Rick Otton, will be sharing in his upcoming 3-day conference in the UK.
"Raising retirement money and securing your financial future don't have to be stressful and full of struggles. There are other more effective ways to do this without having to downsize your homes. And you can learn all about it in 3 days," Otton said.
Mr. Otton is a renowned property innovator who has built a number of portfolios in Australia, UK, and New Zealand. He and his creative property investment strategies have helped thousands of individuals create wealth from real estate. By sharing his strategies, he has showed individuals an innovative way to achieve total freedom.
Achieving Total Freedom from Creative Real Estate
"Freedom has a unique and specific meaning for each of us. Each of us has to get clear about what freedom means to us so we can start achieving it. But whatever it means to you, freedom comes down to the flexibility to choose. More freedom simply means more choices. And that is what creative real estate offers you," Otton said.
Rick Otton and his students are living proof of the benefits and advantages of these strategies. Trish McGirr is one of Otton's many students who have been earning a steady positive cash flow from creative real estate.
"I have signed up four new deals and possibly a 5th tomorrow. All £3,000 to £5,000 upfront, nearly £1,000 cash flow and total back end of £60,000! I practically made £65,000 per property! Thank you, thank you, thank you!" McGirr said.
"Literally thousands of individuals have used these creative property investment strategies to turn their lives around. They have been changing their lives and creating financial freedom for themselves and their families, and impacting dozens and even hundreds of other people's lives in the process," Otton added.
Bringing Creative Real Estate to the UK
Otton will be coming back to the UK in 2013 to conduct a 3-day conference where he will talk about creative real estate and show people how to exactly use these strategies and creating wealth from real estate.
"In 3-days, I'll teach you how you can buy property for just one pound with no mortgage, how to find positive cash flow properties, and how you can join the new breed of first home owners and real estate millionaires. I'm sure we'll learn a lot and we're going to have lots of fun!" Otton said.
Grab your ticket to Rick Otton's Zero Debt Property Cashflow Conference 2013 here: http://www.rickotton.co.uk/conference
About Rick Otton
Rick Otton has spent decades making money by snapping up inexpensive real estate and putting it to work building wealth. Now, he's teaching other Aussies how to do the same.
Otton is the founder and CEO of We Buy Houses, which operates in the U.S., U.K., Australia and New Zealand putting his strategies to work every day.
Otton got his start in alternative real estate investment in 1991 and within a year acquired 76 properties. In years after, Otton made a fortune using his low-risk, high-reward strategies to inexpensively acquire real estate.
Now, Otton wants to share the wealth by sharing the wisdom, teaching Aussies how to buy and sell real estate without cutting banks and other middlemen in on the deal.
Otton has been featured in a variety of television programs and magazines, including Today Tonight, A Current Affair, Australian Property Investor and more.
You can learn more about Otton and how to invest in residential real estate without using banks at http://www.rickotton.co.uk.