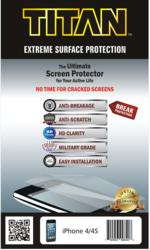 We are seeking resellers worldwide.
Las Vegas, NV (PRWEB) January 15, 2013
At the 2013 CES in Las Vegas, TITAN Screen Protectors announced the TITAN Extreme Surface Protection screen protectors are now available to the general public.
TITAN showcased the innovative protection features of the TITAN screen protectors at their CES booth. Demonstrating on an Apple iPad® protected with a TITAN screen protector, the iPad screen withstood severe abuses from a hammer, a screwdriver, a butcher's knife, and even a Dremel®! The iPad screen suffered no scratches, breaks or cracks.
Making free samples available to thousands of show visitors, TITAN also announced marketing plans to potential distributors and dealers which include aggressive pricing, advertising support, and free shipping from their warehouse in Virginia.
Michael Kwon, president of TITAN Screen Protectors, said "we are thrilled by and appreciate the enthusiastic response from the CES visitors. Everyone seems excited to see a product that provides the ultimate screen protection for mobile devices without requiring liquid sprays or lengthy drying time."
In fact, many industry professionals pointed out the screen clarity and easy installation as TITAN's advantages over competition. In addition to screen clarity and easy installation, the TITAN screen protectors come with a Lifetime Guarantee as long as one owns the device. (S&H fees apply.)
TITAN is seeking distributors and dealers worldwide. Please contact the TITAN team at Sales(at)TitanProtector.com or at 703-440-5010.
About TITAN Screen Protectors
TITAN Screen Protectors, headquartered in Springfield, Virginia, manufactures and markets the TITAN Extreme Surface Protection screen protectors. For more information, visit http://www.TitanProtector.com.