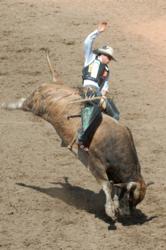 New York, NY (PRWEB) January 13, 2013
The Professional Bull Riders (PBR) show continues in 2013 with the Built Ford Tough series. The season starts at Madison Square Garden with the Monster Energy Invitational. The next scheduled shows are at the Colorado State Fair in Pueblo, Kay Yaeger Coliseum in Wichita Falls and the Winstom Salem Entertainment Sports Complex in Winston Salem, NC. The Built Ford Tough series has 31 events on its calendar culminating in Las Vegas for the World Finals in October.
With a modest start in 1992, the PBR has taken bull riding into its own. At the start the series was under the auspices of the Professional Rodeo Cowboys Association. By the late 1990s the PBR has taken over the sport and crowning the world champion.
The PBR has also taken steps to make this an international sport, with competitors not just from the United States, Canada and Mexico, but also coming from as far away as Australia and Brazil. Other countries have their own PBR tours, and the earnings count towards the PBR World Finals.
The PBR has a wide following as each show is an extravaganza with something for everyone. Close to two million people attend the events, with more than a hundred million television viewers. CBS and CBS Sports Network will be televising PBR events starting this year.
The allure of bull riding as a spectator sport is in watching real cowboys do what normal people can only shake their heads at doing. It takes courage and an understanding of the bull before a cowboy can ride a bull. Besides, what other sport gives separate scores to the bull and rider?
About Cheap Concert Tickets:
Cheap Concert Tickets has discounted tickets for events worldwide including PBR - Professional Bull Riders tickets, Disney on Ice Rockin' Ever After and Disney on Ice Treasure Trove at great everyday low prices. This popular secondary ticket exchange is offering the special customer appreciation discount code, PBR, for special savings.