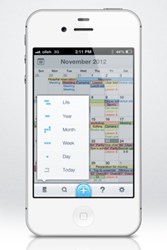 (PRWEB) January 14, 2013
Day2Life Planner from Day2Life and Wonil Park is a new multi-featured iOS application which encompasses far more than a simple scheduler. The developers of Day2Life Planner set out to design a planner with a sound philosophy: large scale success is determined by small scale success. Daily success determines lifetime success. It's much like the old saying, "the devil is in the details." That is, when one gains control over the small details, bigger problems are avoided. Having a powerful planning tool like Day2Life Planner can be an incredible asset.
What sets Day2Life apart is its integrated perspective. Users can make long term plans, and have their overarching goals reflected in their day to day task list. Realizing long term goals through short term actions is what determines success, and Day2Life makes this an intuitive, elegant process for its users.
Not only does Day2Life integrate long term plans and daily tasks, it seamlessly incorporates users' other planning tools. Google Calendar, the native iPhone calendar app, and Outlook can all be linked with Day2Life. Day2Life is also easily integrated with social media experiences, allowing users to post their goals and daily mottos via Facebook and Twitter.
With a tap or two, users see their goals realized by the day, month, or year. Day2Life planner is as convenient and powerful for scheduling the day's meetings as it is for outlining one's five-year-plan.
And Day2Life won't upset anyone's financial planning, because it's free to download. It's available now in the iTunes App Store. Users with ambitions large and small are invited to check it out at no cost.
Device Requirements:

Compatible with iPhone 3GS, 4, 4S, 5, iPod touch (3rd generation), iPod touch (4th & 5th generation), and iPad.
Requires iOS 5.0 or later
11.3 MB
Pricing and Availability:
Day2Life Planner is free and available worldwide exclusively through the App Store here:
https://itunes.apple.com/us/app/day2life-planner/id562619370?mt=8
About the Developer:
Day2life planner was developed by Wonil Park and is a supported project by the South Korean Seoul City App Developer center. This center actively supports and finances app-related projects by talented developers. Day2life planner is currently #3 in the productivity category in the Korean appstore, reached #10 in the Japanese appstore and became a top 4 app in the Netherlands App Store.