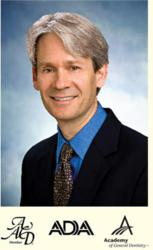 Reidsville, NC (PRWEB) January 14, 2013
Dr. Joe Adams Dentist of Caring Modern Dentistry is one of the first dentists in the local Reidsville, NC community to offer CEREC technology to patients for one-visit restorations. CEREC, which is short for Chairside Economical Restoration of Esthetic Ceramics, eliminates the need for multiple patient visits to complete crowns for tooth restorations, allowing dentists to fit, create and place the crown all in one visit.
CEREC uses the latest dental technology to create highly precise and accurately fitted crowns using computer imaging. CEREC crowns can be created in the time of one patient visit, making the process not only more accurate, but more time efficient for the patient.
"The CEREC machine really increases the convenience factor for our patients who need crowns for restoration dentistry," said Dr. Joe Adams. "It can be hard for patients to take time out of their busy schedules for two or more dental appointments within weeks of each other. With the CEREC machine, we can complete the entire restoration within the time of a normal dental visit."
Prior to using the CEREC machine, Dr. Joe Adams' patients needing crowns would have to schedule an initial visit to have impressions taken of their tooth structure and bite. The patient would be fitted with a temporary crown while those impressions were sent to a lab with technicians who would sculpt the crown and send it back to the dental practice. Approximately two weeks later, the patient would return to have the permanent crown placed.
Using the CEREC machine, Dr. Joe Adams at Caring Modern Dentistry in Reidsville, NC can now use the latest technology to virtually design a crown using patient measurements with 3D computer imaging. The machine then uses the images to precisely sculpt the crown from a small ceramic block using high-powered burs. Once the crown is sculpted, it is placed in an oven to cure and is subsequently placed on the patient's tooth.
Dr. Joe Adams completed his dental education at the University of North Carolina at Chapel Hill after a decade-long career in music. As a practicing dentist, Dr. Adams is constantly pursing continuing education in dentistry to ensure that the technology and treatments offered at his practice are the industry's best.
To find more information about Caring Modern Dentistry or to read reviews of Dr. Joe Adams, please visit http://www.drjoeadams.com/ and https://www.youtube.com/watch?v=3D8TDQNLXSo