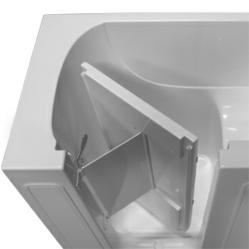 This new walk in bathtubs picture gallery offers customers the ability to see senior bathtubs from multiple angles.
Denver, CO (PRWEB) January 14, 2013
Aging Safely Baths, a leading supplier of walk in bathtubs and roll in showers throughout the United States and Canada, is excited to announce that its product page now features a picture gallery to make senior bathtubs even easier to shop for. The new picture gallery makes the product page user-friendly, especially for shoppers who have imperfect vision.
Although the new picture gallery will benefit all shoppers, Aging Safely's many elderly customers will find the large, clear photographs tremendously helpful when trying to select a hydrotherapy bathtub, roll in shower or walk in bathroom product.
The products page displays walk in bathtubs and walk in showers from four different quality manufacturers. Detailed information about each model is underneath the specific manufacturer's name. Customers can compare senior bathtubs or a roll in shower within the same product line and make comparisons among different brands.
The picture gallery helps customers narrow down the product that they want. Although all of the senior bathtubs help facilitate safe bathing, details including the measurements of each walk in tub are listed to assist in finding the bathtub that is the proper fit. Shoppers can conveniently click on a photograph and see larger pictures of the senior bathtubs. Customers can also access manuals and brochures that can be downloaded and printed.
Clicking on photo gallery pictures of a roll in shower or a hydrotherapy walk in bathtub also provides different views of the appliance. Shoppers can see the placement of jets in the hydrotherapy senior bathtubs. Interior photos also make it easy for customers to visualize the amount of room they will have in their walk in bathroom products.
"Providing multiple views of hydrotherapy senior bathtubs enhances the shopping experience and gives our customers more confidence with their selection. Choosing a walk in bathtub fixture is straightforward, and our sales staff can provide additional information after customers have browsed the photo gallery and read about the walk in tubs or roll in showers", said CEO Zach Wennstedt.
Aging Safely invites customers to view the products page and browse the photographs of walk in tubs and showers. Customers can even view photographs of grab bars, so they can see the shape and size of the bars. The photo gallery is helping customers to enjoy a showroom experience from the comfort of their homes when shopping for a roll in shower, wheelchair accessible bathtub, or hydrotherapy tub that can help them bathe easier and experience increased independence.
Contact Information:
Zach Wennstedt
info(at)agingsafelybaths(dot)com
1-888-779-BATH(2284)