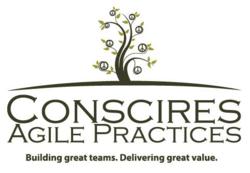 Building Great Teams. Delivering Great Value.
(PRWEB) January 14, 2013
Conscires Agile Practices is conducting Certified ScrumMaster (CSM) and Certified Scrum Product Owner (CSPO) trainings. The topics that will be covered are scrum framework, scrum roles, scrum meetings, scrum artifacts, and scrum simulation (optional). As these classes are focused on grooming ScrumMasters and Product Owners, there will also be a deep dive into the roles of a ScrumMaster and Product Owner, respectively. The certification is given by Scrum Alliance based on a multiple-choice, open-book exam.
CSM and CSPO trainings are suitable for project managers and existing development/ team leaders and those who are keen on becoming ScrumMasters/ Product Owners.
The trainings are mainly conducted by Carlton Nettleton & Heitor Roriz Filho, who have received Certified Scrum Trainer (CST) certification from Scrum Alliance. Each of them has a minimum of 5 years of experience with Scrum.
CSM trainings will be conducted in the following cities: Conscires Agile Practices is conducting Certified ScrumMaster (CSM) trainings in the following cities: Richmond, VA (Jan 17-18), Boston, MA (Jan 24-25), Los Angeles, CA (Weekend, Jan 26-27), Dallas, TX (Jan 31- Feb 1), Denver, CO (Feb 4-5), Irvine, CA (Feb 6-7). For more details, follow the link: http://agile.conscires.com/training-cities/
The trainings are competitively priced and for those who are in transition, there is an option of special pricing. Group discounts are also available. For inquiries, please contact csm(at)conscires(dot)com or 949-232-8900.
There is a referral program where one can get rewarded with a $50 Amazon gift-card for each referral. For more details, follow the link: http://agile.conscires.com/csm-and-cspo-refer-a-friend-program/