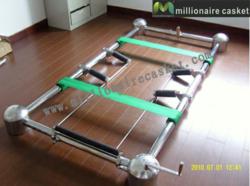 (PRWEB) January 14, 2013
Recently, MillionaireCasket.com, a leading casket supplier, has proudly introduced its new product, casket lowering device, to enrich its product line, and expand its market share.
The lowering device from MillionaireCasket.com is a machine used for lowering a coffin or casket into the grave, and is placed over an open grave. It allows a smooth and silent lowering action without the need for any external power supply.
According to Zoe Wong, CEO of the company, their lowering device has a 1000-pound weight capacity, and it is an ideal choice for lowering a casket.
"Silent, stylish, and sturdily built, it comes in a range of finishes, which will add extra polish and professionalism to your ceremonies. Moreover, it carries a 1-year warranty which covers full parts, labor and shipping expenses." Added, Zoe Wong.
Zoe Wong continued, "For those who are comparing prices of funeral caskets online and services in order to make a well-informed buying decision, we suggest they buy China caskets directly from a manufacturer. We have more than 10 years experience in the casket industry, and can help each customer who would like to buy caskets and embalming table products online."
About MillionaireCasket.com
MillionaireCasket.com (Millionaire Casket Company) is a leading casket manufacturer and funeral product supplier from China, offering the full range of caskets, including metal caskets, wood caskets, veneer caskets, cremation caskets, rental caskets, orthodox caskets, and so on. The standard quality control policy is strictly applied here, and a third party quality assurance is also available.