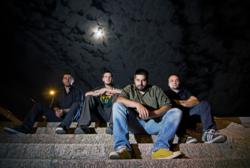 EYOT is on to an amazing fresh sound and approach... A new sonic alliance for a new generation.
- Critical Jazz.com
New York, NY (PRWEB) January 14, 2013
Serbian band EYOT has released its second album named "DRIFTERS" on German record label NEUKLANG and represented in the United States by NINETY AND NINE RECORDS. After their critically acclaimed freshman release "HORIZON" ( Ninety And Nine Records ) EYOT came together to record eight new tracks at the famous BAUER STUDIOS in Ludwigsburg, Germany.
Dejan Ilijic and EYOT are fresh off of their Asian Tour at the end of the 2012. They played at Hong Kong International Jazz Festival, JZ Music fest in Shanghai, Jarasum, OCT Loft, Beishan and Changsha Jazz Fest. In the new album "Drifters," the members of EYOT musically recount their experiences from the last four years on the road, around the world.
DRIFTERS reflects all their emotions and experiences and leaves a very clear picture of a band full of ideas and optimism.
From the soft solo piano stylings bandleader Dejan Ilijic ekes gently from the keys, to Sladjan Milenovic's hypnotic microtonal guitar atmospheres, and with the metamorphic rhythm section of Marko Stojiljkovic and Milos Vojvodic, this band of brilliant young musicians is "all-in" for every tune.
"DRIFTERS" song list:
1. She is dreaming of a better day (07:29) / 2. The crest of the wave (05:02) / 3. At source (07:24) / 4. Coils (04:20) / 5. We'll get there (03:56) / 6. Drifters (07:19) / 7. Firebird (06:46) / 8. The view through the blurry window (13:07)
Notable Performances:
2009 Umbria Jazz Balkanic Windows
2009 Nishvill Jazz Festival
2010 World of Jazz / Dubai Jazz Festival / UAE
2010 Jazz & Blues Festival Petrovac
2010 Nisomnia Rock Festival
2010 Jazz Festival Novi Sad
2010 Jazziré Festival Subotica
2010 Jazz & Blues Festival "Geza Balaž-Gari"
2011 DOKfest Munich / Germany
2011 Sounds of Summer
2011 Belgrade of light festival
2011 Alarma Punk Jazz Fest / Sofia / Bulgaria
2011 Serbia in Thessaloniki / Greece
2012 MIDEM OFF / Cannes / France
2012 Concert in Serbian Cultural Center / Paris / France
2012 Vicenza Jazz Fest
2012 Vrsac Jazz Fest
2012 Bansko Jazz Fest Bulgaria
2012 Nishville Jazz Fest
2012 Hong Kong International Jazz Fest
2012 OCT - Loft Jazz Fest / Shenzhen
2012 Jarasum Jazz Fest / South Korea
2012 JZ Music Fest Shanghai
2012 Beishan Jazz Fest
2012 Changsha Jazz Fest
2012 Jazzy Colours Fest Paris
EYOT is a jazz quartet from Nish, Serbia. Their music blends the culture of jazz, the sophistication of classical piano, the gritty elements of East European folk music, and just a hint of smooth electronic fusion. In 2009 they were one of the three winners of Umbria Jazz Balkanic Windows Competition, and many domestic and international festivals followed ( Nišvill Jazz Fest, World of Jazz / Dubai, DOKfest / Munich, Alarma Punk Jazz / Sofia, Veisa Jazz / Saransk, Midem Off / Cannes, Vicenza Jazz Fest, ASIA Tour 2012 ), along with club gigs on regular basis.
EYOT is represented by:
Dr. Kent Gustavson / Ninety and Nine Records ( United States )
Rico Scholz / Neuklang Records ( Worldwide excluding United States )