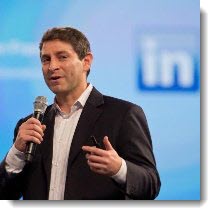 Together with LinkedIn, we have an opportunity to illustrate how modern prospecting techniques out produce traditional approaches.
Las Vegas, NV (PRWEB) January 14, 2013
Sales Benchmark Index, a sales consultancy focused on helping companies "make the number," is partnering with LinkedIn, the world's largest professional network, to teach Social Selling. This webinar, on January 17th at 1:00 PM CST, will help sales leaders replace ineffective prospecting techniques with modern Social Selling approaches.
In "Make Your Number with Social Selling," Sales Benchmark Index's CEO Greg Alexander will be interviewing LinkedIn's Head of Global Sales Ops, Brian Frank. The session will provide attendees with the approach LinkedIn uses to implement their own product to generate leads. Mr. Frank will discuss what has worked, what has not worked, and offer recommendations on implementing Social Selling effectively.
"At Sales Benchmark Index, we try to provide sales and marketing leaders new ways to make the number," said Greg Alexander, CEO of SBI. "Together with LinkedIn, we have an opportunity to illustrate how modern prospecting techniques out produce traditional approaches. "
Brian Frank of LinkedIn said, "LinkedIn's Sales Navigator solution has helped us make social selling a reality for our company. We have standardized across our entire company what once was being done by some sales pros in how we find new prospects, uncover connections for warm introductions, and access insights to initiate a compelling conversation."
To register for the live session, interested parties should click here. An on demand version of the session will be available here after January 17, 2013.
About Sales Benchmark Index
Sales Benchmark Index provides sales and marketing consulting services to leading organizations. These companies are seeking to increase their rate of revenue growth. Unlike traditional sales improvement approaches, such as software implementations or skills training, we offer superior value because we rely on the benchmarking method to deliver results. This method of sales and marketing consulting allows for results to be delivered quickly with little organizational disruption. This is accomplished through the use of best-in-class diagnostic tools and solutions that are supported with verifiable proof. Each project is executed by the most experienced team of advisors in the industry.
About LinkedIn
Founded in 2003, LinkedIn connects the world's professionals to make them more productive and successful. With more than 187 million members worldwide, including executives from every Fortune 500 company, LinkedIn is the world's largest professional network on the Internet. The company has a diversified business model with revenues coming from its talent solutions, marketing solutions and premium subscriptions businesses. Headquartered in Silicon Valley, LinkedIn has offices across theglobe.