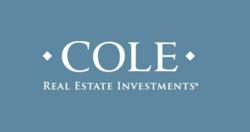 Phoenix, AZ (PRWEB) January 14, 2013
Cole Real Estate Investments (Cole), the sponsor of Cole Corporate Income Trust, Inc. (CCIT), announced that CCIT's Board of Directors has approved closing CCIT's initial public offering during the third quarter of 2013. Cole currently expects that sales of shares of common stock in the primary offering will cease on August 30, 2013. 
CCIT invests primarily in single-tenant, income-producing, "necessity" corporate properties, which are leased to creditworthy tenants under long-term net leases. At the end of 2012, CCIT's investment portfolio, with a purchase price of nearly $300 million, included 13 wholly owned properties in nine states, consisting of approximately 3.2 million square feet.
CCIT is offering up to 250,000,000 shares of its common stock in the primary offering for $10.00 per share. Additionally, up to 50,000,000 shares of common stock are available pursuant to the Distribution Reinvestment Plan (DRIP) at a purchase price of $9.50 per share. Following the close of its primary offering, CCIT intends to continue selling shares of common stock pursuant to the DRIP.
Prospectus
A full prospectus may be found on the sponsor's website, by calling the sponsor at 602.778.6000 or by contacting Cole Real Estate Investments, 2325 E. Camelback Road, Suite 1100, Phoenix, Arizona 85016.