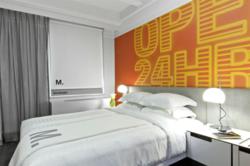 The Milford is located in the center of Times Square, close to Broadway Theaters, Restaurants, Bars and all Trade Show Venues.
New York, NY (PRWEB) January 15, 2013
Attendees to the New York International Gift Fair or any of the numerous New York events taking place in January have many New York Hotels choose from for their stay - one of the most popular New York Hotels is The Milford - formerly The Milford Plaza Hotel.
The Milford, located in the heart of Times Square boasts an impressive offer with rates as low as $99.00 and Continental Breakfast for 2 - details include:
Guests enjoy a centralized Times Square location, newly renovated guest rooms, complimentary Continental Breakfast for 2 persons per room, per day from only $99.00 - $119.00. Stay between January 2 - February 28, 2013. Limited Offer ends November 30, 2012 - Book Now
The New York International Gift Fair takes place on January 26, 2013 through January 30, 2013, and is held at the Jacob K. Javits Convention Center and other New York venues.
This New York event draws more than 35,000 attendees from across the country, as well as many international Visitors to New York, to a trade-only New York event that hosts more than 2,800 exhibitors. Held twice yearly, the New York Gift Fair showcases the very best lines and brands in gift, home, and lifestyle categories.
Unlike any other gift fair, New York Gift Fair is organized into targeted divisions, some of which are bigger than most other gift fairs in their entirety. Each of these targeted divisions is complete with most everything a consumer may expect or imagine in the niche, and exhibits are carefully selected to offer the widest variety and best quality of gift, home, and lifestyle items.
Looking for a broad-spectrum and highly-focused gift fair? New York Gift Fair features 10 product divisions, with more then 100,000 lines from 400 categories. At 3 different venues, you'll find design, artisan, home, baby and child, general gift, gourmet housewares, handmade items, personal accessories, and more.
The Milford Hotel - A New York Hotel, is located just blocks from the Javits Convention Center, as well as Pier 92 and 94, where all of the unique gift merchandise is displayed. The Milford is also close to the best New York dining, New York City shopping, and wonderful NY landmarks that complete any trip to New York.
New this year, the International Gift Fair has completed refinement and reorganization of the Handmade Global Design, Baby & Child division, and The Gourmet Housewares Show divisions. The Baby & Child division in particular has been edited with a design-forward collection of products, including 150 resources of well-designed, sophisticated, functional, innovative, and fun items for kids, toddlers, and babies.
Look for the General Gift division to feature approximately 30 companies in the new "On Trend" neighborhood, such as Fred & Friends, Kito, Ore, Present Time, and Wild & Wolf. In the Personal Accessories division, find handmade jewelry from more than 30 categories, with a large quantity of handmade pieces.
About The Milford - A New York Hotel:
The Milford is located in the heart of New York City, surrounded by Times Square, the Broadway Theater district, New York restaurants and New York shopping, the subway and New York City Tours.
This historic New York Hotel is undergoing an extensive $140 million renovation to include each of the 1,300 guest rooms and guest suites, lounge, fitness center, lobby area and all common areas of the hotel.
This New York hotel is perfectly located near all the New York activities and New York attractions that brings visitors to New York from all the world over: Jacob Javits Convention Center, the Financial District, Madison Square Garden, MOMA, Central Park, the Rockefeller Center, Greenwich Village, and much more is within minutes by walk or ride. Come see the best of New York and stay at The Milford Hotel – the favored destination for a Times Square hotel.
Visit The Milford Website.
Check Rates, Make Reservations or call toll free: 888-352-3650.
Take a Photo Tour of The Milford Hotel - A New York Hotel.