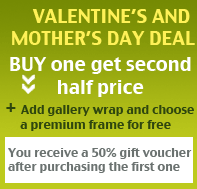 "Photo to Painting gifts with excellent savings"
(PRWEB) January 16, 2013
Valentine's Day is just around the corner and Mother's Day to follow shortly after. Love Custom Art has devised a solution for Valentine's and Mother's Day photo to painting gifts with excellent savings so both days are covered with real, original, paintings from photos as personalized gifts.
Flowers at this time of year are sold at an extortionate premium and in these austere times when a lot of people are feeling the pinch, this personalized gift solution is being promoted to save people as much money as possible on Valentine's Day, but at the same time take nothing away from the occasion and raise the bar with the quality of gift for the same price as a bunch of flowers, with the added value of the second half price to present on Mother's Day!
Photo to painting gifts on these two very important day's of the year are an excellent solution to the norm of grabbing some flowers and a card on the way home from work at the last minute for extraordinarily inflated prices. The idea is to look through the photo albums and chose a photo to be painted for Valentine's Day and picking a photo that would suit for a Mother's Day gift.
Love Custom Art has come up with a stress-free way of ordering the best present possible all online and delivered with minimum effort (physically) but at the same time a painting from photo is a most thoughtful gift.
The discounted offer for Valentine's and Mother's Day combined are 100% hand painted portraits by professional Artist's on quality canvas. Add Gallery Wrap and choose a premium frame for free.
All that is required is to choose a favorite photo which is best suited to be painted by hand, upload on the fully interactive online store, go to the shopping cart and capitalize on the 'buy 1 Valentine portrait painting and get a Mother's Day painting half price and a free premium frame when the Gallery Wrap option is chosen'.
The deal is running now as Love Custom Art is fully aware the date for Mother's Day does vary from country to country. Please allow a 15 day window to create a photo to painting and 3 days for delivery.
Love Custom Art Limited is a interactive online store for all photo to painting needs, well established in the custom portrait market as one of the most reliably notable companies with an exemplary track record for service. The founders and owners have over ten years experience in custom art and have managed, over the years to source and keep the most reliable contacts in the industry.
Visit: http://www.lovecustomart.com/ for the Valentine's Day and Mother's Day combined gift offer and for more information how the photo to painting process works contact:
E-mail: sales(at)lovecustomart(dot)com
US: +1 218 389 8815
Love Custom Art Ltd
8345 NW 66 ST
MIAMI, FL 33166
United States
UK:+44 20 3239 8963