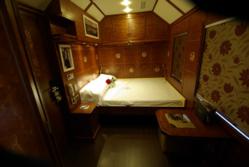 Luxury train travel is perfect for romance. A couple can share quality time - the sybaritic pleasures of retro slow travel, sumptuous surroundings, fine dining and memorable moments.
(PRWEB) January 16, 2013
We at the Luxury Train Club say that, although St. Valentine's Day is special, the rest of the year should be filled with romance; our solution for those memorable occasions? There is a luxury train departure on every single day of 2013, and Club members benefit from a discount for booking before 31st March 2013.
The Luxury Train Club presents rail journeys by 28 trains in 38 countries worldwide. The Calendar of Luxury Train Journeys makes it easy to find the train for your special day. Around the world, there are rail experiences available on every day in 2013. Club membership is simple and free, requiring just a subscription to our newsletter.
Luxury trains are about a relaxed and gentle progress along some of the world's most celebrated railways. These rail cruises aren't headlong rushes along high-speed rail lines, or crowded 'buses on rail'.
The trains frequently travel through spectacular or scenic countryside, mountains, savannah, tundra and deserts or along coasts, riverbanks and lakeshores that you wouldn't notice from a road. Most train fares include programmes of excursions and visits to cities, sights and natural wonders along the route.
The standard of cuisine is as least as high as one would expect from a quality restaurant, and is complemented by an extensive bar and wine list, served by uniformed stewards, expert at being attentive without over-familiarity.
Trains that offer overnight accommodation have cabins of a high standard, with carefully designed living areas that make the most of available space. Almost all such trains have en suite, attached private bathrooms. There are dedicated cabin staff / butlers, fresh linen, toiletries and a turndown service.
All luxury trains make the most of their lounges and bar cars as convivial, sociable venues – but also frequently provide space or dedicated carriages for those couples who would simply prefer to enjoy time together.
Having chosen the special day from the Calendar, Club members will receive a 2.5% discount on the selected train experience, if it is booked by March 31, 2013. The Luxury Train Club accepts any currency to pay for any journey, with appropriate charges. The Club offers 'Ticket To Ride' pre-paid vouchers, valid for any of the Club's rail holidays, which are original gifts for someone special, on any day of the year.
Simon Pielow of The Luxury Train Club, says, "Luxury train travel is perfect for romance, allowing a couple to share quality time, combining the sybaritic pleasures of retro, slow travel in sumptuous surroundings with fine dining and memorable moments."
About the Luxury Train Club
The Luxury Train Club is the personal booking service for the world's greatest train journeys, offering a concierge approach to booking train holidays and vacations, and rail excursions. The site also offers private rail charters and rentals for VIP and corporate bookings as well as comprehensive information about each of the trains on offer.
The website is part of a group of rail booking sites which includes Train Hire, Private Rail Cars, Train Chartering and Open Access Rail.
For more information, please visit http://www.luxurytrainclub.com
For press enquiries, please contact Simon Pielow on +44 (0)1249 890205 or email infoATluxurytrainclub.com
About Tickets To Ride
Tickets To Ride are available for purchase by Club members throughout the year, and make a very special gift for an important person or couple. A Ticket To Ride can be worth any amount from USD $750 or GBP £500 or EUR €600, in any one of those currencies.
Each Ticket To Ride is valid for one year from date of issue and can be redeemed towards the partial or complete payment for any journey featured on the Luxury Train Club website, as long as there is availability on that particular trip, even if the chosen journey takes place later than one year after issue.
Vouchers from the Luxury Train Club are an ideal way to show you care while giving choice to the lucky recipient.