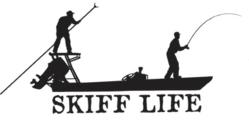 Skiff Life is the perfect place where professional and recreational fishermen go to swap stories and photos, sell gear and enjoy the fishing lifestyle.
Fort Myers, FL (PRWEB) January 16, 2013
Fishing "skinny" or better known as fishing in shallow water is a passion for many and has seen explosive growth in recent years. Rising gas prices has left many boaters and fisherman at the dock when it comes to fishing offshore. This has led to the discovery by many that there is tremendous sport hunting fish within distance of shore saving hundreds of dollars in gasoline prices.
As a result, new boat companies, lure companies and tournament series are popping up to cater to the growing segment of fishing enthusiasts.
At the center of the this "fishing revolution" is Skiff Life , a combination website and facebook page that allow these shallow water fishermen to join up with vendors and each other to swap stories and photos, share fishing tactics and swap fishing gear and equipment.
Skiff Life followers show their support for fishing shallow water by purchasing Skiff Life stickers for their boat, car or other fishing equipment like coolers. They then compete to take pictures with their latest catch with the Skiff Life sticker in view to show their support for fishing shallow water. The stickers are UV protected and made with 5 year adhesive to guarantee the sticker can withstand the wear and tear of the outdoors.
The Skiff Life website also features the most complete listing of thousands of boats for sale and fishing gear related to shallow water fishing on the web. Any given day Skiff Life provides access to this gear searchable by geographic location to allow for subscribers to locate boats and gear nearest to them. Since it's inception Oct. 1 2012, hundreds of boats and gear have been purchased by using what the company calls a "Skiff Filter" to located fishing related items nearest their subscribers.