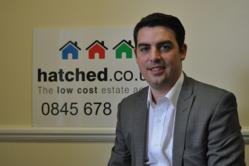 "With the UK teetering on the brink of an unprecedented triple-dip recession, 2013 is the year when British house sellers will switch to using online estate agents. The facts are undeniable, we save our clients money and lots of it!"
London (PRWEB UK) 16 January 2013
Following a record-breaking 2012, Hatched.co.uk is on a mission in 2013 to educate UK homeowners of the impressive savings of up to 85% that can be made by selling their home through an online estate agent.
In 2012, Hatched.co.uk agreed sales on more than 760 houses nationwide, saving clients over £2 million in fees compared to if they had used a traditional high street estate agent.
From Truro and Newcastle to Lancaster and Brighton, Hatched.co.uk sold houses ranging in price from £62,000 to £1.6 million. The average fee that Hatched.co.uk charged was only £543.
"With the UK teetering on the brink of an unprecedented triple-dip recession, 2013 is the year when British house sellers will switch to using online estate agents. The facts are undeniable, we save our clients money and lots of it!" says Adam Day, Director of Hatched.co.uk.
"For a typical £200,000 house, our lowest fee would be less than £480, compared to around £4,000 for a high street agent. Indeed, we sold one property in July 2012 that was on for £1.5 million and charged the owner £480. The property had been listed previously with a high street agent who was unable to sell it and they wanted to charge the owners over £25,000!"
Hatched.co.uk is in the process of opening a network of regional offices around the UK to support its online presence. Having launched offices in Sheffield, Manchester and Birmingham in June, July and October 2012 respectively, new offices are planned for Norwich, Newcastle, Reading and Chelmsford in early 2013.
As a 'full service' estate agent, a Hatched.co.uk employee personally visits every single property that it puts on the market, thereby guaranteeing that potential buyers receive firsthand knowledge, experience and recommendations.
-Ends-
Notes to Editors:
Adam Day, Director, Hatched.co.uk is available for comment and opinion on the UK property market. Follow him @Hatched_co_uk / http://www.hatched.co.uk/blog.asp
For further press information please contact:
James Brooke
Rooster PR
T: +44 (0)20 3440 8930
E: james(dot)brooke(at)rooster(dot)co(dot)uk
W: http://www.rooster.co.uk/press-releases
About Hatched.co.uk
Hatched.co.uk is a leading online low cost estate agent with a network of regional offices across England and Wales. Launched in May 2006, Hatched.co.uk was one of the original pioneers of the online estate agency model.
A 'full service' estate agent, Hatched's fees for sales are on average 85% lower than a traditional high street estate agent's. This equates to an average saving of over £3,500. Lettings fees for a fully managed service start from only 6%.
The Hatched.co.uk team has over 50 year's estate agency experience and are proud members of the National Association of Estate Agents. Hatched.co.uk aims to become one of the leading estate agency brands in the UK. To find out more, visit http://www.hatched.co.uk or call the team on 0845 678 0908.