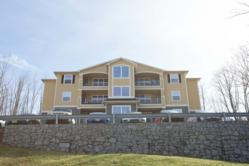 New York, N.Y. (PRWEB) January 15, 2013
Lauderhill Partners, LLC (Lauderhill), a private merchant banking investment firm founded by seasoned executives Evan Denner and Andrew Stark, announced its second asset acquisition in recent weeks.
Campus Evolution Villages, LLC, a Lauderhill Partners company dedicated to student housing, completed the acquisition of The District, a 280-unit, 924-bed purpose-built student housing property located in Morgantown, W.V. Situated in the most desirable location for students attending West Virginia University, the property at 1000 District Drive offers students a 4,500+-square-foot clubhouse with fitness center, pool, café and nail/massage facilities. The seller, EA Morgantown, LLC, a Residential Housing Development company, was represented by Peter Katz of Institutional Property Advisors in the transaction.
"We are very pleased to have acquired such a unique property," said Mr. Stark, who serves as Chief Executive Officer of Campus Evolution Villages. "The community has full bed/bath parity providing each student at the community with a private bedroom and bathroom across its large two-, three-, and four-bedroom floor plans."
"The District is to be rebranded as Campus Evolution Villages," said Mr. Denner, who is the Chief Investment Officer of Campus Evolution Villages. "The community is a great addition to the growing Campus Evolution Villages portfolio, joining four other properties acquired in mid-December."
Campus Evolution Villages is planning a multi-million dollar renovation for the property, which was built in 2005. "We will begin shortly with a complete renovation of the clubhouse and amenities that will make The District the place to live near WVU," said Mr. Stark. "The apartments also will be fully renovated with upgraded kitchens, flooring, lighting and more to deliver premium student housing and the ultimate experience and quality of life."
The acquisition was completed with Campus Evolution's partners, Barry Reichmann and associates of Reichmann International Development Corporation, a Toronto, Canada-based firm. The Reichmanns, a Toronto-based family with significant investments in various real estate companies and assets, is well known for controlling the Olympia & York real estate organization and the development of Canary Wharf during the 1980s and 1990s. Barry Reichmann's Senior Care Holdings Inc., through Elmcroft Senior Living, owns, leases and manages over 100 senior housing facilities throughout the United States.
About Lauderhill Partners, LLC
Lauderhill Partners, LLC is a diversified merchant banking firm with a focus on sourcing and managing investments in best in class management teams and operating companies in fragmented, out of favor and distressed sectors. Lauderhill principals have significant experience in the acquisition of operating companies and assets, management and the monetization of investments through both public offerings and private sale transactions. The firm's headquarters are located in New York City. Lauderhill, through its subsidiaries Campus Evolution, LLC and Campus Evolution Villages, LLC, currently has investments in the student housing sector.
About Campus Evolution, LLC
Campus Evolution, LLC, with headquarters in New York City, is a campus-centric company with a singular focus on delivering an array of needed, useful, sophisticated products, services and platforms to our highly sought after student demographic.
About Campus Evolution Villages, LLC
Campus Evolution Villages, LLC is a thought leader and change agent setting a new standard in student living. Campus Evolution Villages owns and manages a diverse portfolio of student housing assets across the U.S. It's a lifestyle built to support the student experience both in and out of the classroom. It is where students study hard and Live Big!
# # #