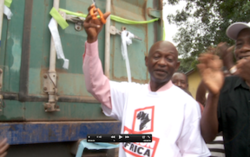 "Action Africa is our response to the challenges facing children and families in rural villages of sub-Saharan Africa in the vital areas of health, education, economic generativity and human rights." Dr. Chris Egbulem
(PRWEB) January 30, 2013
Action Africa, Inc (http://www.actionafrica.org), an international non-profit organization based in Washington DC, raises $24,000 to translate its mission of health, education, and economic freedom to needy families and villages in Sierra Leone, West Africa.
The West African nation continues to face the impact of a decade long civil war and devastating violence which forced many of its citizens to become refugees among other consequences. The government has had to turn to outside support to finance needed drugs and health worker salaries.
Action Africa works on capacity building efforts to assist newly arriving African immigrants for faster integration and assimilation into American life, and to further assist their respective villages in Sub Saharan Africa.
Aside from shortages of health staff at hospitals, Sierra Leone has had high levels of infant mortality and women with pregnancies complicated by syphilis, hepatitis, and malaria. It has approximately 80 doctors and 40 government hospitals to serve a population of 5.5 million. The country requires payment for health care. But in 2010 it launched a system of free health services for pregnant and breast-feeding women and children under age five for the treatment of malaria.
One result of this is that women can now go to the hospital to deliver. If you're a mother, you would rather give birth in Democratic Republic of the Congo, Sudan, Pakistan, Afghanistan, rather than Sierra Leone. You have a one-in-six chance of dying in childbirth. And the likelihood of a child there living to age five also is diminished.
Through the joint collaboration of Action Africa, Inc. and Project Cure (Commission on Urgent Relief and Equipment), an international provider of basic supplies and medical equipment, a container of specifically requested health materials was sent this past summer to the Magburka Government Hospital in Sierra Leone.
"We are thrilled to join Action Africa in delivering health and hope to Sierra Leone. The funds raised are multiplied nearly 20 times to improve health and save lives in Africa through the delivery of medical supplies and equipment. Together, we're changing the world!" Claire Cunningham, Director of Corporate Development
Present for their arrival was Susan Hoefling, executive director of Action Africa, who traveled to the country to oversee the delivery at the hospital and observe the implementation of other aspects of organization programs. One of her tasks was to ensure that the equipment and supplies worth an estimated $440,000 made it through the customs process, were safely delivered to the location, and put to most efficient use.
Action Africa provided the shipping and administrative costs totaling $24,000.
Delivering the container involved more than simply seeing that everything arrived. A hospital must be adequately staffed to utilize and accept those supplies, and if not it may be necessary to hire more nurses or additional staff to clean the hospital to prepare for their arrival.
Following this initial delivery at the Magburka hospital, Action Africa and Project Cure are planning to send seven additional shipments of supplies per year for 5 years to different hospitals and clinics in Sierra Leone. One future objective is for continuous shipments where needed.
The need to find additional donors and sources of support is an ongoing one for Action Africa as it continues to raise funds for this purpose.
It is paramount, in working with partners, to make the most efficient use of resources.
The hospital in Magburka has been run with just three doctors and very basic supplies, and has lacked qualified support staff, Hoefling noted. The facility is seeking to provide a mosquito net for every pregnant or breast-feeding mother.
To demonstrate where the support is going, a documentary on what is taking place in Sierra Leone was launched in October 2012. The film features footage of the arrival of the medical supplies container in the village of Magburka.
Action Africa, Inc. is a volunteer run 501(c) 3 organization based in Washington
DC. It was founded in 2000 to focus on the development and implementation of
programs in sub-Saharan Africa. It also works on capacity building efforts to assist newly
arriving African immigrants for faster integration and assimilation into American life, and
to further assist their respective villages in Sub Saharan Africa.