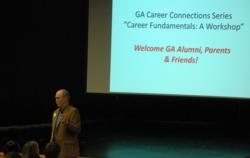 Only 51 percent of students who graduated from 4-year programs over the past five years currently have full-time jobs.
(PRWEB) January 15, 2013
Fort Washington, PA: College students face a challenging job market, and last week, Germantown Academy hosted "Career Fundamentals: A Workshop" which was an evening of presentations and panels covering career skills for their recent graduates. Noted author, speaker, and career skills expert Alfred Poor, Ph.D. moderated the evening program.
Alfred Poor told the participants to prepare to "drink from a fire hose" as the program was packed with practical information about the skills and strategies required to successfully search for and land a position in today's job market. He pointed out that "according to a recent study by Rutgers, just 51 percent of all students who graduated from four-year programs over the past five years now have a full-time job." He also pointed out that "according to a recent study of 2012 college graduates by the National Association of Colleges and Employers, 63 percent of students who had paid internships received job offers before they graduated, while only about 40 percent of students with unpaid or no internships received offers."
The evening program was divided into three segments, with a presenter and discussion panel for each segment: "Resumes and Cover Letters," "Interviewing and Networking Skills," and "Internships. The presenters and panelists include many Germantown Academy graduates and parents who represented companies large and small, including Merck, Drexel University, SAP America, ARAMARK, Merrill Lynch, Urban Outfitters, ADP, and Lily Pulitzer. Alfred Poor is also the father of two Germantown Academy graduates.
Germantown Academy is a non-sectarian, coeducational college preparatory school educating students from PreK to Grade 12 located in Fort Washington, PA. Founded in 1759, GA has over 250 years of history, tradition, and outstanding academics. The school's website is http://www.germantownacademy.net.
About Alfred Poor, PhD: He is a writer, speaker, and trainer with a worldwide reputation. He is the author of "7 Success Secrets That Every College Student Needs to Know!" as well as more than a dozen other books. He has experience as a guest on television and radio, and was co-host of a live radio show in New York City for more than eight years. He presents his upbeat message with energy and humor, and welcomes the opportunity for live interaction with audience members.