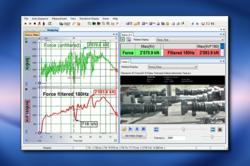 Monroe, NY (PRWEB) January 14, 2013
Elsys Instruments, a leading manufacturer of custom and standard fast, high-precision data acquisition systems, has added many new features to its client-server-based transient recorder application and signal analysis software, TranAX 3.4 (formerly TransAS), making it one of the most complete data acquisition, analysis and automation solution available.
The updated software adds many unique functions, geared towards individual application needs that are not currently available through other programs, to its already feature-rich platform.
Specialized applications that benefit from the enhancements include ballistics measurement, crash testing, structural health and seismic research and field testing as well as stray voltage detection, variable frequency drive diagnosis, connector conductivity testing, high voltage switching, rail and automotive control and monitoring.
Elsys incorporated feedback from existing users as well as from internal resources to make the software more versatile and increase its ease of use.
Video recordings in common formats, such as avi, mp4, mpg, etc., can now be imported and synchronously displayed with actual measurements signals. This enables users to analyze measurement data and recordings by a high speed camera simultaneously on screen.
The depicted image shows a railroad buffer test with synchronous video recording. For more screen images highlighting additional functionalities, visit http://www.elsys-instruments.com/products/tranax.php
For analyzing acoustic signals, frequency spectra can be displayed as standard, octave or 1/3 octave. Audio signals can be weighted in dB-A or dB-C.
The redesigned formula-editor in version 3.4 is more powerful than ever with more than 60 mathematical functions and an unlimited number of math-traces included for extensive signal analysis.
Program functions such as If/Then, Loops, End, True/False, etc., make computing post-measurement results from multiple simultaneous and/or sequential recordings easy and efficient. Events benefiting from these functions include multiblock recordings, a series of stored measurement files recorded by auto-sequence or single shot acquisitions with multiple events in one record.
Application-specific computing algorithms can be stored and recalled for later use. Programming can be done separately in a higher level language under Microsoft .NET, with the resulting software code then integrated as DLL in TranAX.
Designed for use with Elsys' turnkey TraNET Transient Recorders and its TPCX data acquisition modules, which form the heart of the modular TraNET systems, as well as TPCE modules equipped with 4-lane PCIe architecture, the new TranAX 3.4 software remotely controls the data acquisition equipment over 1 Gbit LANs from any location worldwide.
Elsys' transient recorder systems feature multiple recording modes such as single mode and free running scope mode with auto trigger functionality and multi-block recording with segmented memory. Continuous data recording to the hard disk (streaming) and Elsys' unique Event Controlled Recording (ECR) mode that offers automatic recording without dead-time and dual timebase are also available.
For a limited time, a free copy of TranAX 3.4 that runs in simulation mode is available for those interested in learning more about this unique software package. Go to http://www.elsys-instruments.com and register to download the software.
For additional information, contact Klaas Vogel, Elsys Instruments, 234 Cromwell Hill Road, Monroe, NY 10950; email: klaas.vogel(at)elsys-instruments(dot)com; phone: 845-238-3933.
For high res download and full text:
http://www.simongroup.com/PressRoom/press-release.php?Job=ELS-A-21038
# # #
READER SERVICE INQUIRIES: Please direct to Klaas Vogel, email: klaas.vogel(at)elsys-instruments(dot)com.
EDITORS NOTE: Since 1980, Elsys Instruments has developed and manufactured highly precise and high resolution data acquisition equipment that focuses on fast sampling rates.
With instruments providing high precision at ±<0.1% or better, on range and off-set as well as LAN connectivity and long-term real-time data acquisition, Elsys is sought out by its customers in fields as diverse as the automotive and chemical industries, production test, power plants, calibration laboratories, ballistics testing, structural health and seismic studies, universities and research laboratories.