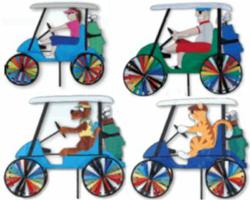 We were impressed by its durability and how it always made us smile.
Tamarac, Florida (PRWEB) January 14, 2013
GolfGifts.com has been selected as the exclusive distributor of two creative and unique product lines for 2013: Golf Lawn Wind Spinners and Fortune Cookies for Golfers.
The two new lines will be on display at Booth 2208 at the 2013 PGA Merchandise Show at the Orange County Convention Center in Orlando, Florida, January 24-26. The golf wind products will also be on display at Demo Day for the PGA Merchandise Show, January 23 at the Orange County National Golf Center & Lodge.
All four colorful Golf Wind Spinner characters – man, woman, cat and dog – drive a golf cart with four wheels that spin as the wind blows. The waterproof, fade-resistant items, each mounted on a stake, can be planted on any lawn or ground-cover area, and will align themselves with whichever way the wind blows.
"Golf Lawn Wind Spinners create a sense of personality and fun that will catch the eye of any golf enthusiast," said Warren Drucker, CEO of Name It Golf, Inc., parent company of GolfGifts.com. "We first spotted one of these items in a homeowner's backyard on a favorite golf course several years ago, and we were impressed by its durability and how it always made us smile," Drucker said. "We are so proud to become the exclusive distributor of this fine product manufactured by Premier Kites, the leader in their industry."
GolfGifts.com collaborated with Premier Kites to expand the golf lawn decor beyond the original male golfer. "Cat in Cart" "Dog in Cart" and "Lady in Cart" wind spinners will make their debut at the PGA Show.
The second new product, Golfer's Fortune Cookies, are the creation of Sensational Sweets & Creative Cookie Etc. Each individually-wrapped cookie contains a fortune with a quote or saying that golfers are sure to enjoy. Golfer's Fortune Cookies are available in bulk boxes of 300 cookies or Chinese style take-out container gift packs of 8 cookies each.
"The take-out-style pails can be customized with a decorative label, making them unique souvenir items for golf courses & events," said Drucker. The cookies are Kosher & produced in a nut-free environment. PGA Merchandise Show Attendees can stop by Booth 2208 for a tasty sample.
"Whether they're running a tournament or a pro shop, or buying a gift for a special golfer in their lives, our customers are always looking for something new and fun to add to the mix," Drucker said. "These exciting new lines build on our dedication to make the great game of golf more personalized and more fun – no matter how your round went."
###
ABOUT NAME IT GOLF, INC.
Name It Golf, Inc., located at 7629 NW 57th St in Tamarac, Fla., is a family-owned and operated business founded in April of 1999. It is currently the world's largest online seller of personalized and logo balls and tees, selling millions of personalized and logo golf products each year. It also operates an extensive GolfTees.com wholesale program. It owns and operates the web sites GolfGifts.com, GolfTees.com, GolfSpikes.com, PersonalizedGolfBalls.com, LogoGolfBalls.com, GolfPencils.com & BicycleWindSpinners.com.
Visit us on FaceBook! http://www.facebook.com/NameItGolfInc