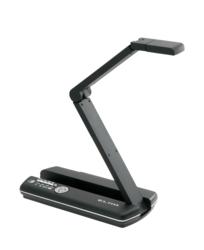 Plainview, NY (PRWEB) January 16, 2013
ELMO USA Corporation, the global leader of innovative education technology, has launched a new official online store with a special promotion for the first 150 customers. Now available for sale online is ELMO's latest ultra compact and stylish document camera, the MO-1 and MO-1w (wireless). More ELMO products will be available for purchase online in the near future.
During this special promotion, the first 150 customers will receive an elegantly designed leather Kangaroo desktop organizer as a complimentary gift. A custom-made ELMO SD card will be given as an additional gift to customers who use a coupon code from the official ELMO Facebook page. The promotion will start on January 15, 2013 on a first come, first served basis and will end when all gifts are allocated.
Matt Takekoshi, President of ELMO USA comments that, "We are thrilled to open official online store after being an industry leader in education, legal, corporate, government and worship for over 90 years. Our success is largely built on one of the strongest reseller networks available in the industry and we will continue to grow. Our concept for the online store is not to serve as "show-rooming", but to provide our customers with an alternative source of information on our products as well as meet the priorities of the customers whose needs require specialization. As we continue to push forward in this quickly evolving market, we feel that providing readily available alternatives for access to desired information is crucial. I believe our online store will generate additional interest in our products thus benefitting both our resellers and end-users."
Extremely Compact and Versatile MO-1/MO-1w Visual Presenter
Both the MO-1 & MO-1w are designed to enhance visually engaging instruction and presentation for teachers, professors, attorneys and business professionals. With its dimensions of 3.97" x 8.89" x 1.1", weight of only 1.3 lbs and sleek design, the MO-1 & MO-1w may be compact in size but the true color reproduction from its five Megapixel CMOS sensor creates a powerful and vivid presentation. It captures images of documents and three-dimensional objects and projects them onto a screen through a projector or on a digital TV monitor.
The MO1-w's wireless capability enables visual presentation without a direct cable connection to projectors and monitors. Additionally, the compact MO1-W can serve as a full HD wireless bridge between today's most popular teaching tools and presentation products such as laptops and Blueray players. These devices can now be streamed wirelessly in HD through the MO1-W's
S wireless adapter.
The user-friendly device features HDMI and RGB inputs, USB power capability, 8x digital zoom, 30 fps (full-motion) when used in 720p, a 300° rotatable camera head, a 2 inch minimum shooting distance and an SD card slot for image storage.
High speed scanning capability; Takes just 2 seconds to scan images
In addition to visual presentation, the MO-1/MO-1w can be used as a high speed scanner. Put a document or any object under the MO-1/MO-1w and press the camera button, which instantly stores images on a SD/SDHC card. (SD/SDHC card not included)
Handy Online Communication Device
Online visual communication is one of the key features of the MO-1/MO-1w, allowing the device to be connected to a computer where it can be used as a webcam for online business meetings. Unlike a general webcam, the MO-1/MO-1w allows presenters to show any item under the device from documents to three-dimensional objects such as products, architectural models or even how to operate app on the smart phone or tablet while keeping both hands free. It means the MO-1/MO-1w can be applied for any online business meeting topics. Additionally, the device contains a built-in microphone to assist users in communication during online meetings.
About ELMO USA
ELMO USA has been a leader in education technology for more than 90 years. The company's cutting-edge innovations are shaping the future of visual communications. Foremost among these innovations are teaching tools for dynamic classroom presentations. ELMO's groundbreaking document cameras and visual presenters benefit students by enabling instructors to incorporate stimulating high-resolution visuals into their lesson plans. These value-priced, full-featured teaching tools offer a level of interactivity and spontaneity that static transparencies or "one-dimensional, pre-planned" computer lessons simply do not. For more information about ELMO's products, visit http://www.elmousa.com or call 1.800.947.ELMO.