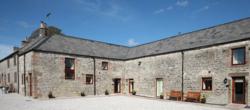 Take advantage of a terrific time away in the Southern Peak District this summer.
Peak District, UK (PRWEB UK) 16 January 2013
With glorious views from every angle, brand new barn conversions by Croft Farm Holidays in the Southern Peak District, are promoting a 10% summer season saving, with an inviting offer extending, to book a holiday before the end of February.
Croft Farm Holidays are a family firm who have dedicated blood, sweat and tears, renovating beautiful barns with an elevated and envious position right on the High Peak Trail. Opening their welcoming arms to holidaymakers, the company saw instant success in their first season 2012 and are hopeful 2013 will be a bumper season for them too.
With a fantastic summer saving and a special offer for early birds, Judith Barker is proud of the toils and trouble her family under took in transforming the once run down barns in a glorious position in the Peak District, into stunning new holiday homes. With a first successful summer season under her tool belt, it is not just Judith who has made her mark on the renovations.
"When we originally decided to renovate the barns five years ago, Peak Park Planning were very enthusiastic because of our position right on the High Peak Trail with our very own access. They wanted to push tourism in the area," she goes on to say, "It took three years to get the designs passed and two years to renovate and a lot of hard work."
Judith explains it has been a real learning curve not only for herself, handling the bookings and administration herself, preferring to have that up close and personal contact with the client, but for all members of her family, particularly her middle son.
"During the renovations, my son got made redundant from his job as a joiner. As luck would have it, the local builder working on the barns, whom we have known for many years, offered my son an apprenticeship. He was able to work on a lot of the fixtures and fittings which have been lovingly made or restored in each holiday home. He also entered The Young Talent Of The Year Contest last February, where 600 talented students were whittled down to a final 20, and my son, I am very proud to boast, was the youngest student to enter and got through to the final five."
Not only is it evident that a lot of tender loving care and commitment has been put into the building of Croft Farm Holiday Homes, but it seems Judith and her family are continuing their tireless personal service for every visitor, with a welcome pack catered for each and every age group, and accolades in the visitor book which would make any holiday accommodation owner envious.
"We are so fortunate meeting so many lovely people who come to stay in our holiday homes and we've already seen return visitors in just under a year," says Judith." They come from all walks of life, from all over the country and have all absolutely adored their time shared with us here in the glorious Southern Peak District."
With all the furnishings sourced locally, soft furnishings from Ashbourne and most of the fabrics from Matlock, Judith and her family were very keen that the whole project was to be generated by local people and businesses to help the local economy.
Offering a chance for an already exceptionally generous special offer to gain 10% off the cost of a holiday if booked by the end of February, Judith is keen to point out that her prices are not set in the foundations, understanding and sympathising with families struggling in hard times.
"We are very personable and can move on the rates if necessary, " she says, "just give us a call or get in contact via our wonderful new website."
View the latest special offers at http://www.croftfarmpeakdistrictholidays.co.uk and take advantage of a terrific time away in the Southern Peak District this summer.
This article was written by http://www.peakdistrictonline.co.uk, the UK's largest holiday accommodation directory for the Peak District.