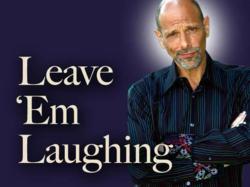 I'm A Comedian"
Calabasas, CA (PRWEB) January 16, 2013
Before he was known around the country as Robert Schimmel, X-rated comedian and author, he was Bobby. A son, a brother and a friend who made his friends and family cry with laughter.
Bobby's childhood nickname, "Born to Destroy" was bestowed upon him by his parents, Holocaust survivors Betty and Otto, recent immigrants to the United States.
Voted "Class Clown" by his high school classmates, Bobby was always funny, and always "on." Viewers will be amused to see Robert's elementary school report cards that admonish his behavior, to hear about his misadventures with faculty members, but also his lifelong career goal written in early cursive: "Show Business."
In this documentary film, mischievous Bobby will morph into Robert Schimmel, the entertainer right before your eyes. The framework for a myriad of stories will come from his father Otto, his sister Sandy and brother Jeff. Also contributing their incredible tales will be childhood friends, fellow comedians, doctors, etc., all of whom will trace Robert's career from its roots as a wild kid to a beloved comedian who rose through the ranks in comedy clubs and ascended to HBO, Showtime, Comedy Central, Radio and and late night TV talk shows, developing a devoted audience.
Bobby's real life was plagued by many personal demons. While making total strangers in the audience laugh, he struggled with the death of his young son, Derek. Both of his daughters are diabetic, and Bobby also faced his own health challenges. He battled cancer, hepatitis C, a heart attack and survived them all.
His funny and touching book, "Cancer on $5 a day [chemo not included]" became an inspiration to thousands of people striving to overcome the devastating disease.
While fans often wait outside a comedy club for an autograph, Robert's fans just wanted to thank him for a great show, and the motivation to fight against illness, or deal with the loss of a loved one.
From the outset of his career, Bobby began every sentence by announcing "I am a comedian," as if that would that would make a difference to the barista at Starbucks, or a furniture salesman. It is now engraved on his headstone. Bobby's life ended in September, 2010 through injuries sustained in a car accident.
The roller coaster ride from the funniest kid on the block to a star in the comedy world is a bumpy but compelling one, and will be illustrated through "Leave 'Em Laughing" a no holds barred documentary. Viewers will be treated to never-before-seen video of Robert in the silliest of situations, along with rare photos and documents to verify the most ridiculous personal history imaginable. You'll hear of Bobby's very short stint in the military during the Vietnam War, his attempts at careers as a musician and photographer, and his inability to sit through a college class or hold a real job.
"Leave 'Em Laughing" will be a full length documentary specifically developed for broadcast. Bobby's story is so worth telling in the most satisfying, and most genuine way, Jeff Schimmel and Kelly Hommon are raising the funds [$350,000] necessary to produce it with a top notch documentary team. This project needs private support. Investors in the project will receive rewards from signed artwork to DVD's to an exclusive premiere of the documentary. The Robert Schimmel Documentary is an invitation to fans of his comedy to support a project that will give illuminate the journey from Bobby to Robert, and share more funny moments.
Portions of the profits [if any] will be donated to non-profits most closely linked to Robert and his work with charitable causess during the last years of his life.
Jeff Schimmel is Bobby's younger brother. A Television, Film and Radio writer and producer in his own right, Jeff has been working in Hollywood since 1985.
Director Kelly Hommon, has earned a reputation as an enthusiastic, passionate and talented Producer, Director, Producer, Writer and Editor.
Sandhi Schimmel Gold is Bobby's younger sister, a professional fine artist whose work is in private, corporate and museum collections around the world.